Black and Green Tapenade with Goat Cheese Crostini is the perfect taste combination to serve your family and guests for any occasion that comes up.  This is a delicious olive spread or dip that contains chopped green and black olives, slow roasted tomatoes, capers, goat cheese, and an anchovy.  You could also serve this tapenade in a bowl and let everyone help themselves.
The anchovy is the secret ingredients in this recipe as it give that certain special taste that you do not know what it is.  If you are not familiar with strongly flavored ingredients such as anchovies, add them to your dish in very small amounts so that you can control the taste and balance the flavors.  The goat cheese is the final ingredient to surprise your taste sensations.
Did you know that tapenade is considered the great Italian olive spread of Provence?   Also crostini are thin versions of the classic Italian Bruschetta.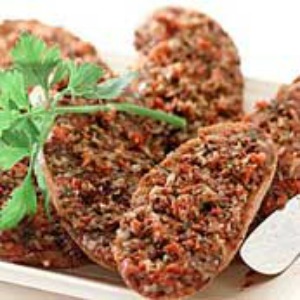 Black and Green Tapenade with Goat Cheese Crostini Recipe:
Keyword:
Black and Green Tapenade with Goat Cheese Crostini Recipe, Herbed Goat Cheese Recipe, Olive Tapenade Recipe
Instructions
Black and Green Tapenade with Goat Cheese Crostini Instructions:
Make Olive Tapenade, make Oven-Dried Tomatoes, make Crostini, and make Herbed Goat Cheese; set all aside until ready to assemble.

To assemble: On each of the Crostini, spread some Olive Tapenade, 1 tablespoon Herbed Goat Cheese, and top with 1 teaspoon Olive Tapenade.


Olive Tapenade Instructions:
In a food processor, combine all the ingredients, except the olive oil. Using the pulse button, process until coarsely chopped and well blended. Continue to process, slowly adding the olive oil.

Refrigerate in a covered container until ready to use.
Oven-Dried Tomatoes Instructions:
Preheat oven to 250 degrees F. In a pot of boiling water, blanch tomatoes. Drain and refresh in ice water. Drain, peel, core, cut into quarters, and remove seeds.

Line a baking sheet with parchment paper; arrange the tomato quarters on the baking sheet, cut side down. Drizzle generously with olive oil. Sprinkle with thyme and garlic.

In a small bowl, combine salt, pepper and sugar; sprinkle evenly over the tomatoes. Bake until the tomatoes begin to shrivel, approximately 1 hour. When the tomatoes are cool enough to handle, transfer to a container. Pour olive oil over and cover the container. Refrigerate and use as needed.
Crostini Instructions:
Preheat oven to 350 degrees F. Arrange the bread slices on a baking sheet. Brush with olive oil and bake approximately 6 to 8 minutes. Remove from oven and very lightly rub the toasted bread with the cut side of the garlic clove. Allow to cool before adding toppings.


Herbed Goat Cheese Instructions:
Combine the parsley, chives, thyme, and pepper and place on a flat surface. Roll the log of cheese in the mixture, coating all sides and retaining the shape of the log. Wrap in plastic wrap and refrigerate until needed.
Recipe Notes
* Use only good-quality Spanish or Portuguese anchovies.  Anchovy paste may be substituted (approximately two inches squeezed from the tube will provide the equivalent taste of one anchovy fillet).  More anchovy fillets may be added according to your personal taste.
* To purchase Anchovies and Anchovy Paste, check out What's Cooking America's Kitchen Store.
Source:  This Black and Green Tapenade Crostini recipe and photo are courtesy of Chef Wolfgang Puck, owner of the Beverly Hills restaurant called Spago.
Comments and Reviews