In Texas, the reigning queen of comfort food or down-home cooking is Chicken-Fried Steak, or as Texans affectionately call it CFS.  Every city, town, and village in Texas takes prides in their CFS.  Some, admittedly, are better than others.
Texans have a unique way of rating restaurants that serve CFS. The restaurants are rated by the number of pickup trucks that is parked out in front.  Never stop at a one pickup place, as the steak will have been frozen and factory breaded.  A two and three pickup restaurant is not much better.  A four and five pickup place is a must stop restaurants, as the CFS will be fresh and tender with good sopping gravy.
You might be surprised to learn that there is no chicken in Chicken-Fried Steak.  It is tenderized round steak (a cheap and tough piece of beef) made like fried chicken with a milk gravy made from the drippings left in the pan.  The steak, when fried, should look just like the coating on a piece of Southern fried chicken.  The traditional way to cook CFS is in a large cast-iron skillet with very little oil.  Served with "the works" means accompanied by mashed potatoes, gravy, greens, black-eye peas, and cornbread.
It has been said there are three food groups in Texas:  Tex-Mex, barbecue, and chicken-fried steak.  Chicken-Fried Steak is known by Texans as the unofficial state dish of Texas.  According to the Texas Restaurant Associate, it is estimated that 800,000 orders of Chicken-Fried Steak are served in Texas every day, not counting any prepared at home.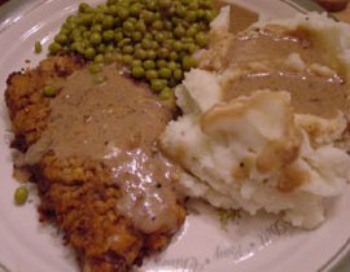 History of Chicken Fried Steak:

1844-1850 – The origin of the Chicken-Fried Steak probably comes from the German people who settled in Texas from 1844 to 1850.  As Wiener Schnitzel is a popular German dish that is made from veal, and because veal was never popular in Texas and beef was, the German immigrants probably adapted their popular dish to use the tougher cuts of beef available to them.
1930s – As to where and when the term Chicken-Fried Steak began remains a mystery.  Most authorities agree that it probably developed in the 1930s, and by the time of World War II, it had become the generally accepted term.
April 19, 1988 – Oklahoma designated an Official State Meal consisting of fried okra, squash, cornbread, barbecue pork, biscuits, sausage and gravy, grits, corn, strawberries, chicken-fried steak, pecan pie, and black-eyed peas.
October 26, 2011 – The Texas House of Representatives has declared that October 26 shall heretofore be known as Texas Chicken Fried Steak Day.
RESOLUION – By: Sheffield H.R. No. 1419:
WHEREAS, Texans are renowned for their love of chicken fried steak, that exceptional dish that elevates the hearty flavor of beef to new heights by coating it in batter and breading and frying it until the ingredients are melded in a blissful union; and
WHEREAS, A food that reflects the history and diversity of our state, chicken fried steak has been linked to the German specialty Wiener schnitzel, which arrived in Texas with European immigrants; other food historians note that chicken fried steak is similar to pan-fried steak, a favorite of Texas cowboys; and
WHEREAS, Generations of Lone Star State residents have partaken of this beloved entree, and happy memories of putting knife and fork to a chicken fried steak in the company of family and friends are shared by countless people all across Texas; and
WHEREAS, While chicken fried steak can be enjoyed at any time, the dish's popularity justifies the celebration of an observance in its honor; on October 26, 2011, restaurants throughout the state are marking the second annual Texas Chicken Fried Steak Day with special deals and related activities; and
WHEREAS, This signature dish occupies a special place in the culinary culture of the Lone Star State, and Texas Chicken Fried Steak Day provides a welcome opportunity to pay homage to that shared legacy; now, therefore, be it
RESOLVED, That the House of Representatives of the 82nd Texas Legislature hereby recognize October 26, 2011, as Texas Chicken Fried Steak Day and extend sincere best wishes to all who are taking part in this unique occasion.
Chicken-Fried Steak Recipe:
Keyword:
Chicken Fried Steak History, Chicken Fries Steak Recipe
Ingredients
Chicken-Fried Steak:
1/2

cup

flour

(all-purpose)

1/2

teaspoon

salt

or to taste

Black pepper,

freshly ground

1

large

egg

2

tablespoons

water

3/4

cup

buttermilk baking mix

(such as the brand Bisquick)

2

pounds

bottom round steak

or top round steak (cut into four individual portions), pounded well to tenderize

1/3

cup

vegetable oil
Instructions
Chicken-Fried Steak Instructions:
Preheat oven to 150 degrees F.

In a shallow pan or plate, sift together flour, salt, and pepper.

In another shallow pan, combine egg and water.

In still another shallow pan, place baking mix. Coat steaks in flour mixture, dip in egg mixture, and then coat with baking mix.

In a large frying pan (I like to use my cast iron frying pan) over medium-high heat, add vegetable oil and heat until a drop of water sizzles. Add coated steak pieces, in batches, and fry 4 to 5 minutes per side or until golden brown and thoroughly cooked (add additional vegetable oil if needed).

Remove from pan and keep cooked steaks warm in preheated oven.

Pour off all but 2 tablespoons of the cooking oil. Put the frying pan back over the heat and make the Milk Gravy.
Milk Gravy Instructions:
In the same frying pan (that you cooked the steak in) with 2 tablespoons pan drippings, over medium heat, sprinkle flour over the oil and blend with a wooden spoon or whisk until smooth.

Whisking or stirring constantly, slowly pour in milk, cream, or evaporated milk; continue stirring, scraping loose browned bits from the bottom and sides of skillet, until the gravy begins to boil and thicken. Season with salt and pepper to taste.

Reduce heat to low and simmer, stirring occasionally, 5 to 8 minutes or until gravy is thickened to the desired consistency and the flour has lost its raw, pasty taste.

Remove from pan and serve hot with the prepared Chicken-Fried Steak.
Comments and Reviews