Outside of the state of Texas, Cincinnati, Ohio is the most chili-crazed city in the United States.  Cincinnati prides itself on being a true chili capital, with more than 180 chili parlors.  Cincinnati Chili is quite different from its more familiar Texas cousin, and it has developed a cult-like popularity.  What makes it different is the way the meat is cooked.  Cincinnati Chili has a thinner consistency and is prepared with an unusual blend of spices that includes cinnamon, chocolate or cocoa, allspice, and Worcestershire.  This is truly the unofficial grub of Cincinnati.
The people of Cincinnati enjoy their chili spooned over freshly made pasta and topped with a combination of chopped onions, shredded Cheddar cheese, refried beans or kidney beans, and crushed oyster crackers.  If you choose "the works," you are eating what they call Five-Way Chili.  Make sure to pile on the toppings – that's what sets it apart from any other chili dish.  To test a restaurant for authenticity, ask for a Four-Way.  If the server asks you whether you want beans or onions, you know this is fake Cincinnati chili, since Four-Way always comes with onions.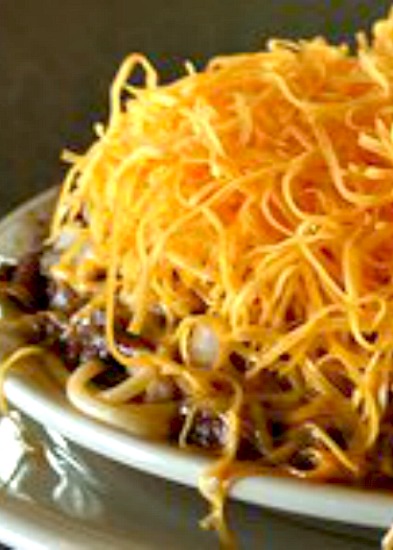 History:  Macedonian immigrant Tom Kiradjieff created Cincinnati chili in 1922.  With his brother, John, Kiradjieff opened a small Greek restaurant called the Empress.  The restaurant did poorly however, until Kiradjieff started offering a chili made with Middle Eastern spices, which could be served in a variety of ways.  He called it his "spaghetti chili."  Kiradjieff's "five way" was a concoction of a mound of spaghetti topped with chili, chopped onion, kidney beans, and shredded yellow cheese, served with oyster crackers and a side order of hot dogs topped with more shredded cheese.
Cincinnati Chili Recipe:
Keyword:
Cincinnati Chili History and Recipe
Servings
:
6
to 8 servings
Ingredients
Cincinnati Chili:
1

large

onion,

chopped

1

pound

extra-lean ground beef

(hamburger)

1

clove

garlic,

minced

1

tablespoon

chili powder

1

teaspoon

ground allspice

1

teaspoon

ground cinnamon

1

teaspoon

ground cumin*

1/2

teaspoon

cayenne pepper

(red pepper)

1/2

teaspoon

salt

1 1/2

tablespoons

unsweetened cocoa or 1/2 ounce grated unsweetened chocolate*

1

(15-ounce) can

tomato sauce

1

tablespoon

Worcestershire sauce

1

tablespoon

cider vinegar

1/2

cup

water

1

(16-ounce) package

spaghetti pasta,

uncooked, dried
Toppings:
Oyster Crackers

Cheddar cheese,

shredded

Onion,

chopped

1

(16-ounce) can

Kidney Beans
Instructions
In a large frying pan over medium-high heat, sautonion, ground beef, garlic, and chili powder until ground beef is slightly cooked.

Add allspice, cinnamon, cumin, cayenne pepper, salt, unsweetened cocoa or chocolate, tomato sauce, Worcestershire sauce, cider vinegar, and water. Reduce heat to low and simmer, uncovered, 1 hour 30 minutes. Remove from heat.

Cook spaghetti according to package directions and transfer onto individual serving plates (small oval plates are traditional). Learn How To Cook Pasta Properly.

Ladle Cincinnati Chili mixture over the cooked spaghetti and serve with toppings of your choice.

Oyster crackers are served in a separate container on the side.

Cincinnati chili lovers order their chili by number. Two, Three, Four, or Five Way. Let your guests create their own final product.

Three-Way Chili: Additionally topped with shredded Cheddar cheese.

Four-Way Chili: Additionally topped with chopped onions.

Five-Way Chili: Additionally topped with kidney beans.
Recipe Notes
* See comments below on the Original Cincinatti Chili recipe by Sindi Holmlund.
---
Comments from Readers:
I'm from Cincinnati and my Grandmother worked at the Empress restaurant when she was young.  She got the original recipe for Cincinnati chili from the owner's wife.  When my Grandma died, my Dad gave me her recipe box and there it was, the Original Cincinnati Chili Recipe.  The recipe you have is not quit correct, as the original recipe does not have cumin or cocoa in it, but had bay leaves.
Oh, and another thing, it was originally just called 3-way.  That meant that it could be 'used' three ways.
1. On hot dogs.
2. Over spaghetti. – And YES, you HAVE to put the oyster crackers on top of the spaghetti.
3. With added beans, as a bowl of chili.
Over time people changed it to mean what 'topping' they wanted on it.  I moved from Cincinnati to Florida when I was very young and the two things I missed the most were 3-way and White Castles.  I can make the 3-way, but there's no substitute for the real thing when it comes to White Castles.  When my Dad visits, I make him bring me a bag of 24. – Sindi Holmlund
I lived in Cincinnati all my life. I learned the "secret" of making Cincinnati Chili.  One very important thing is – never brown the ground beef and don't put onion in the mix.  The onions are saved to put on top.  The ground beef is mixed with the ingredients plus water and boiled for several hours.  Also use tomato paste instead of tomato sauce.  Thanks for your great recipes – Laura Madigan
Another secret for making your Cincinnati Chili even more authentic is to put the ground beef in a food processor and get it very finely chopped before boiling. When finished the chili should be a bit watery – this is where the Oyster Crackers come in. – Paul Hoernes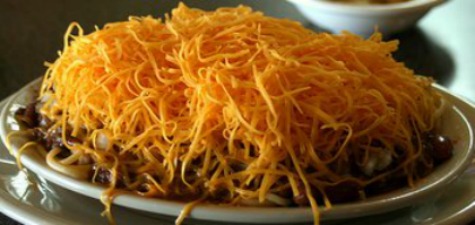 Comments and Reviews