Grilled Filet Mignon Steak Recipe or Grilled T-Bone Steak Recipe – The king of the grill is steak!  There is nothing better than firing up the grill on a sunny day and throwing a nice thick, juicy steak on the barbecue.  
If you are going to eat steak, than why not enjoy the best cut of meat, either the tender filet mignon or the T-bone (which also includes the New York strip).  I am sharing my simple but delicious list of seasonings and grilling method that I like to use for perfect grilled steak.  This Grilled Filet Mignon and grilled T-Bone Steak recipe is an outstanding way to serve all your favorite cuts of grilled beef.  Any type of steak could be substituted.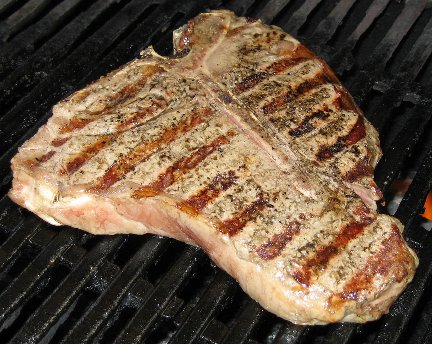 Grilled Filet Mignon Steak Recipe - Grilled T-Bone Steak Recipe:
Keyword:
Grilled Filet Mignon Steak Recipe, Grilled T-Bone Steak Recipe
Instructions
In a small bowl, mix together the olive oil, pepper, and garlic. Place the steaks on a shallow dish and rub the garlic mixture all over the meat. Marinate at room temperature for 1 to 2 hours or, better still, covered in the refrigerator for up to 2 days. Turn the meat from time to time to coat both sides evenly.

Remove the steaks from the refrigerator an hour before cooking.

Do not salt your steaks just before cooking. Salt brings moisture (water) to the surface of the steak, and the water sits on the surface as you cook the steak. Thus, you are again basically steaming the steak. I know that some people do salt their steaks before cooking, but trust me and don't salt - the result will be juicy, delicious steaks to serve your family and guests! Salt after the steak is cooked to your liking, has rested the required time, and just before serving.

When you are ready to grill, preheat barbecue grill. Place steaks onto hot grill. Cover barbecue with lid, open any vents, and sear for approximately 3 to 4 minutes per side. Your steak is done when the internal temperature registers 120 to 130 degrees F. on your instant-read meat thermometer:

Medium Rare - 125 degrees F.

Medium - 130 degrees F.

What constitutes rare and medium-rare cooked meat? To satisfy government home economists, the Beef Council says rare beef means an internal temperature of 140 degrees F. Well, that is ok if you like well-done and dry meat. If you like moist, rosy meat (like I do), rare begins when the internal temperature registers 120 degrees F. and starts to become medium rare at 125 or 130 degrees F. To cook your meat properly, you must purchase and use a good instant-read digital meat thermometer.

When the steaks are crusty-charred and done to your liking, remove from the grill, let sit 15 minutes before serving (meat temperature will rise 5 to 10 degrees after it is removed from the oven). Place on a platter or individual dinner plates.

I get many readers asking what cooking/meat thermometer that I prefer and use in my cooking and baking. I, personally, use the Thermapen Thermometer. Originally designed for professional use, the Super-Fast Thermapen Thermometer is used by chefs all over the world.  I only endorse a few products, on my web site, that I like and use regularly.
You can learn more or buy yours at: Super-Fast Thermapen Thermometer.
Sponsored Content
Additional Outstanding Steak Recipes:
Beef Tenderloin Steaks Stuffed with Morels
Grilled Beef Tenderloin in Cabernet Sauce
Individual Beef Wellingtons witn Peppercorn Sauce
Comments and Reviews