If you are a fan of shepherd's pie but want a quicker alternative, try this recipe for Tator Tot Casserole.  Instead of using mashed potatoes, tator tots are used as a substitute.  Sometimes a meal with tator tots and melted cheese just hits the spot!
Tator Tot casserole or "hotdish" finds its origins from the Midwest United States.  This casserole is also affectionately known by many as
White Trash Casserole
or
Church Lady Casserole
. It is said that there are as many different ways of making a Tater Tot Hotdish as there are Minnesotans that make it.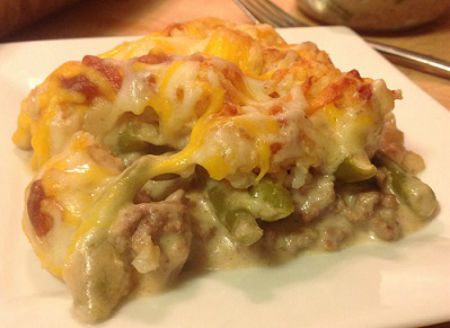 History of Hotdish:  A hotdish is the Minnesotan term typically known as a casserole that contains a starch, a meat, canned or frozen vegetable, and a canned soup that is cooked together in one baking dish.  Since many Minnesotan settlers are Norwegian, it is believed that hotdish originated with the Norwegian word "varmrett" which translates to warm dish.  These one-dish meals are cheap, easy to make, and very filling.  Hotdish became popular in the Midwest states of Minnesota, North Dakota, and Wisconsin.  One would commonly find these served at potlucks such as family reunions, funerals, or church suppers.  Hotdish meals came about when farm wives needed to find inexpensive ways to feed a meal to their family or congregation members of the Lutheran church.
For many years the most typical meat used was ground beef and cream of mushroom soup was also a favorite.  Pasta used to be the most common starch used, but rice and tator tots are also frequently used.  Tuna casserole is another popular hotdish to serve.
You will find the hotdish featured as one of the typical Minnesotan dishes in the popular radio program, A Prairie Home Companion.  Minnestota public television station, KSMQ, produced a 2012 documentary entitled Minnesota Hotdish, providing a historical and humorous look at the popular family gathering and church supper staple.
Tator Tot Casserole Recipe:
Keyword:
Tator Tot Casserole Recipe
Servings
:
6
to 8 servings
Ingredients
2

pounds

ground beef

(hamburger) or ground turkey

2

teaspoons of

beef bouillon granules*

2

cups

water

1

(10.5-ounce) can

cream of mushroom soup

1

(10.5-ounce) can

cream of celery soup

1

(8-ounce) package of

cream cheese,

room temperature and cubed

1

tablespoon

onion powder

2

teaspoons

garlic powder

Salt

and pepper to taste

2

(14.5-ounce) can

green beans,

cut, drained**

1

(32-ounce) bag of

Tator Tots,

frozen

2

cups

cheddar cheese

(or any cheese of your choice), shredded
Instructions
Preheat oven to 375 degrees F. Place oven rack in center of oven. Place 13- x 9-inch baking dish on top of a baking sheet. To serve four people, cut ingredient portions in 1/2 and use a 9- x 9-inch pan for smaller serving size.

In small bowl, mix together beef bouillon granules and boiling hot water until the bouillon is dissolved.

In a large skillet or frying pan over medium heat, brown the ground beef and then drain off the fat and discard. Add in the beef bouillon/water mixture, cream of mushroom soup, cream of celery soup, cream cheese cubes, onion powder, and garlic powder. Stir together until cream cheese is melted and beef mixture is blended. Add salt and pepper to taste (you most likely will not need add additional seasonings since bouillon and cream soups already contain sodium).

Pour beef mixture into the prepared baking dish. Layer green beans evenly over the top of the beef mixture. Next, cover green bean layer with a single layer of frozen tator tots. Sprinkle shredded cheese over the tator tot layer until completely covered.



Place baking sheet with the baking dish in the preheated oven. Bake 45 minutes or until tator tots are browned on top and cooked through.

Serve casserole on individual plates and enjoy.


Recipe Notes
* Can substitute 2 cups of beef stock for beef bouillon and water,
** Can substitute any vegetable of choice or frozen vegetables
References:
Heating up the heartland: Minnesota's signature hotdish combines heartiness, great taste and adaptability – includes recipes, by Harron, Hallie. (February 1996)
Frequently answered questions about the Hotdish Hoedown,  2007-01-12. Retrieved 2012-07-13.
Klobuchar wins congressional hot dish competition, KARE 11, Retrieved April 17, 2011.
Mohr, H. (1987). How to Talk Minnesotan, New York: Penguin Books

Comments and Reviews