Scaloppine al Limone
Veal Scaloppini Piccata is an easy-to-follow recipe that you will make time and time again.  Scaloppine is an Italian term describing a thin scallop of meat (most often veal).  They are also known as veal cutlets.  Butter is actually the "secret Ingredient" in this dish.  This is a classic recipe that can be served for any occasion that you desire.  When you do serve it, you feel you have accomplished a gourmet meal.
In Germany and Austria, when breaded and fried, they are called wiener schnitzel.
Check out my six-course Veal Scaloppine Piccata dinner menu.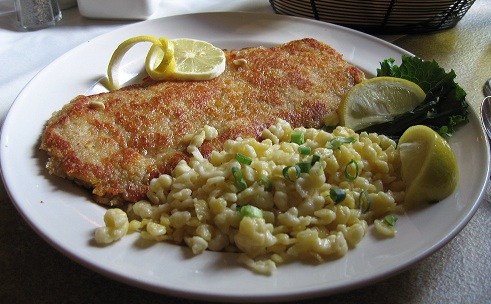 Veal Scaloppini Piccata Recipe:
Keyword:
Veal Scaloppini Piccata Recipe
Ingredients
1

pound

veal scaloppine

(about 1/4-inch thick)*

Coarse salt

and freshly-ground black pepper to taste

1/2

cup

flour

(all-purpose)

4

tablespoons

butter,

divided

2

tablespoons

olive oil,

extra-virgin

2

tablespoons

lemon juice,

freshly-squeezed

1/3

cup

white wine

2

tablespoons

capers,

drained (optional)

2

tablespoons

parsley,

minced, divided

1/2

lemon,

thinly sliced (optional)
Instructions
Preheat oven to 200 degrees F. Warm a large platter and individual serving dishes in oven.

Working with one piece of veal at a time, place each between two pieces of plastic wrap. Working from the center to the edges, gently pound each piece with a meat mallet to approximately 1/8-inch thick. Sprinkle veal generously with salt and pepper (pressing seasoning lightly with your hands).

In a shallow pie place, add flour. Lightly dip both sides of veal in flour to coat all sides; shake off excess.

Meanwhile, in a large, heavy skillet over medium-high heat, melt 2 tablespoons butter with the olive oil until very hot and fragrant (the oil helps keep the butter from burning). Cook the veal cutlets in two batches until cooked through, turning once (about 1 minute per side). Remove from pan immediately and place on warmed platter and cover loosely with aluminum foil to keep warm.

Add lemon juice and wine to skillet, scraping up browned bits; return to heat and let mixture reduce to approximately 1/2 cup. Stir in remaining 2 tablespoons butter, capers, and 1 tablespoon of parsley.

Return veal to sauce and warm briefly over medium heat, turning veal in sauce to coat. Place veal on warmed individual serving plates; divide remaining sauce over each and garnish with remaining 1 tablespoon parsley and lemon slices (if desired). Serve immediately.
Recipe Notes
* Scalloppine is an Italian term for a thin cutlet of meat (small thinly-sliced pieces of meat), typically veal.  If you can not purchase veal, you can substitute pork tenderloins.
sponsored content
Comments and Reviews