Aruba Ariba cocktails are the signature drink on the Caribbean island of Aruba.  On vacation several years ago, my daughter and her friends claimed this their favorite vacation cocktail and enjoyed many during their vacation.  My daughter watched and asked the bartenders many questions on how to mix this fruity rum drink to try to recreate at home.  Back home, she was happy to find the recipe on the Visit Aruba website.
In Aruba they use a splash of a liquor called Coecoei, which can only be purchased on the island of Aruba and cannot be purchased in the United States.  It is claimed that this liquor is a major ingredient of the drink, but then it only calls for a "splash."  It is a sweet red liquor made from an agave plant with rum and cane sugar added.  The taste is said to be similar to passion fruit, so we figured passion fruit nector would be a close enough substitution.
This drink always brings back the happy memories of Aruba.  Be warned that while this drink may be sweet and fruity flavored, it packs a powerful punch!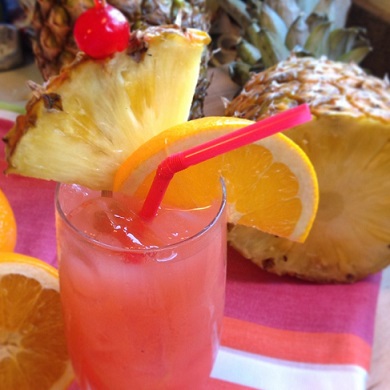 Aruba Ariba Cocktail Recipes:
Keyword:
Aruba Ariba Cocktail Recipes
Ingredients
1/2

ounce

vodka

1/2

ounce

151 proof rum

1

ounce

passion fruit syrup

1/8

ounce

of Creme de Banana

1/2

cup

orange juice

1/2

cup

cranberry juice

1/2

cup

pineapple juice

Crushed ice

1/8

ounce of

cherry grenadine syrup

1/8

ounce

triple sec

Orange

slice

Pineapple

slice

1

Maraschino

Cherry
Instructions
In a cocktail shaker, add vodka, rum, passion fruit syrup, cre de banana, orange juice, cranberry juice, pineapple juice and crushed ice; shake vigorously for 1 to 2 minutes.

Pour into large cocktail glass. Top with a splash a cherry grenadine and triple sec and lightly stir.

Garnish with an orange, pineapple slice, and a maraschino cherry. Serve with a long straw.
Comments and Reviews