Chai Tea, pronounced with a long "i" as in the word tie, is the actual word for tea in many countries.  The word "Chai" literally means "tea" to much of the world.  So yes, technically, calling it Chai Tea means "tea tea."  It is also known as masala chai, Masala meaning "spiced".  It is a centuries-old beverage from India which is basically black tea brewed with selected spices and milk.  The spices vary from recipe to recipe, but is traditionally consumed hot and sweet.  Play with the flavors and make this tea your own as it is a delicious and a dazzling recipe that you can cook in your home and it is a great alternative to coffee.
Chai powders, syrups, and teabags can never compare to freshly brewed Chai Tea.  When made in this traditional fashion, with black tea, chai is not caffeine free; however, it has only about half of the caffeine of a similarly-sized cup of coffee.  Give this delicious tea a chance in place of your usual coffee or tea.  You will probably find yourself reaching for this spicy tea mixture again and again!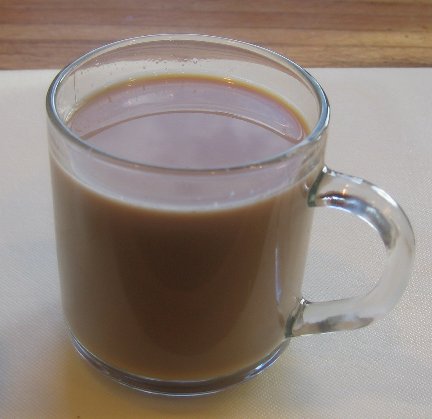 Chai Tea, Masala Chai - Spiced Milk Tea Recipe:
Keyword:
Chai Tea Recipe, Masala Chai Recipe, Spiced Milk Tea Recipe
Ingredients
2

cups

water 

3

black tea

bags or 1 tablespoon loose organic black tea*

1

cinnamon

stick

6

whole green

cardamom

pods, crushed or about 1/4 teaspoon seeds

4

whole

cloves

Dash

nutmeg

1

(1-inch) piece fresh

ginger

root, peeled and sliced

1

(6-inch) piece

vanilla bean

(cut up into 1-inch pieces) or 1 teaspoon pure vanilla extract

2

tablespoons

brown sugar

2

cups

milk,

low-fat or whole**
Instructions
In a large saucepan, add the water, tea bags, cinnamon stick, cardamom pods, cloves, nutmeg, ginger, vanilla bean, peppercorns, and brown sugar. Bring just to a boil; then cover and reduce the heat to low. Let simmer for approximately 5 minutes depending on how strong a spice flavor you want.

Add milk and slowly bring just to simmer (do not boil the milk), then remove from heat. Strain mixture through strainer or coffee filters; press on the spices and tea with a spoon to extract all the fragrant liquids.

NOTE: Many people make the tea base ahead of time, adding the milk when they are ready to serve.

Serve hot or in a tall glass filled with ice.

Store unused portion in the refrigerator.
Recipe Notes
* Decaffeinated tea leaves can also be used, but increase the amount of tea by either 1 teaspoon loose tea or 1 tea bag to make up for the loss in flavor.
** If you are vegan or allergic to dairy products, substitute your favorite milk substitute.  The flavor will vary with the type of milk substitute used.
Comments and Reviews