This fresh Mango Margarita recipe is especially refreshing on a hot day or when you want to enjoy some spicy Mexican cooking.  I always enjoy my margaritas on the rocks.  I actually fell in love with mango margaritas served at a Hawaiian Restaurant in Portland, Oregon called the Bamboo Grove Hawaiian Grille.
They will not give away all the ingredients to their signature drink but I think I came close with this recipe.  It definitely makes me smack my lips as I sip the sweet mango and citrus flavors with the tequila.  The glass is rimmed with a red chile pepper powder, mixed with salt and lime called Tajin, which provides a nice spicy contrast with the sweetness of the fruit.  This drink is also excellent to serve without the alcohol so everyone can enjoy!
Trust me when I tell you – this margarita is addictive and will beckon you!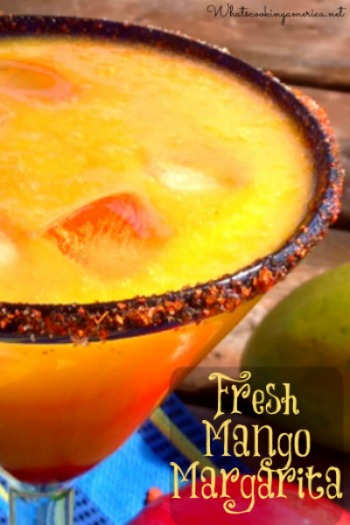 Also check out What's Cooking America's Fresh Lime Margaritas, Blended Fresh Strawberry Margarita,  Blue Margarita, and Prickly Pear Margarita.
Fresh Mango Margarita Recipe:
Keyword:
Fresh Mango Margarita Recipe
Servings
:
4
to 5 servings
Ingredients
Lots of

ice 

(about 1 to 2 cups ice cubes)*

4

ripe

mangos,

peeled and fruit cut off pit**

2

cups

Lemonade

***

4

tablespoons

lime juice,

fresh-squeezed (2 medium-size limes)

3

tablespoons

lemon juice,

fresh-squeezed (1 lemon)

1/2

cup

blue agave syrup,

divided

1

teaspoon

Tajin Spice

(for rimming the glasses)****

4

ounces

tequila

(good-quality)

1 1/2

ounces

Triple Sec

Lime

wedges

Cherry Grenadine Syrup
Instructions
In a blender, add the mango slices, lemonade, lime juice, and lemon juice. Cover with the lid and blend just until smooth. Once the mixture is pureed with no lumps, taste and add 1/4 cup agave syrup at a time (until sweetened to your preference). Add the ice cubes and whirl until ice is just crushed and mixture well blended (do not allow the ice to become a puree). Pour in the tequila and Triple Sec, and stir together to combine.


On a small plate, combine 1 teaspoon coarse sugar with 1 tablespoon Tajin Spice; set aside. My personal preference is to mix a little sugar with the Tajin Spice to cut down on the heat which makes a nice sweet and spicy flavor contrast with the mango mixture. If you prefer, you can use straight Tajin Spice on the rim which also compliments the mango.

To rim the margarita glasses: Take a lime wedge and rub the drinking surface of the glass so it is barely moist. Dip the edge of the glasses into the prepared Tajin Spice mixture.

Pour the blended mango mixture into the margarita glasses rimmed with the prepared Tajin Spice mixture. Top each margarita drink with a teaspoon of Cherry Grenadine Syrup and gently stir to combine.

Garnish with a lime slice (optional).

Non-Alcoholic Version: Omit tequila and Triple Sec. Add an additional squeeze of juice from 2 fresh oranges or 1 cup of freshly-squeezed orange juice.
Recipe Notes
* How much ice you use depends on your taste. You may want to experiment with the ice.
** 1 fresh mango = I cup frozen mango slices.
*** You can use store bought lemonade or see my recipe for delicious homemade Lemonade.
**** Tajin Spice (salsa en polvo in Spanish) is a ground red chile pepper, salt, and lime seasoning.  In Mexico this is very popular to sprinkle on fresh fruit such as melons and vegetables like cucumbers.  This spice can be purchased at Hispanic food markets.   Some grocery stores may carry in the Latin America food section or you can purchase Tajin Spice online.  You can also use Li Hing Mui powder which comes from Hawaii. It is a salty dried plum powder which has a nice sweet and sour taste for the rim of the margarita glass.  This also goes great with Mango Margaritias.  This can be found in Asian specialty markets or ordered online: Li Hing Mui powder
Comments and Reviews