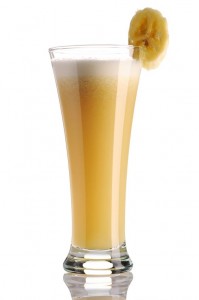 Mango Banana Smoothie is a super food that a has loads of vitamin C and is low in calories and cholesterol.  Go ahead – enjoy this rich and creamy dessert smoothie without an ounce of guilt.  According to most people, they believe in eating whole-foods.  That is, eating foods in their whole state or as close to the way nature intended.  Because our bodies are 100% natural, the fuel for our bodies should be too.
This delicious low-fat and low-calorie Mango Banana Smoothie recipe and photo were shared with me by the website Skinny Ms.
Mango Banana Smoothie Recipe:
Keyword:
Mango Banana Smoothie Recipe
Ingredients
1

ripe

mango* 

1

banana,

frozen and sliced

1/2

cup light

coconut milk,

cold

1/2

cup

milk

(low-fat), cold

1/4

teaspoon

pure rum extract

8 to 10

ice

cubes
Instructions
Preparing and Cutting Mango: Using a vegetable peeler or shape knife, peel off and discard the skin of the mango. There is a large pit that's called a stone inside the mango. Cut mango into slices from the sides, around the stone. Once the knife reaches the hard mango stone, it is time to turn the mango and slice from the other side of the mango. Keep doing this until you finish slicing the mango, and the only thing left is the mango stone. Cut mango into smaller chunks. Before throwing out the mango stone, you might want to eat the mango pulp around it, as there is lots of mango left (this is what I do).

Place the mango, banana, coconut milk, milk, and rum extract in your blender. Process until well combined.

Add the ice cubes and continue blending until smooth and creamy.Serve in tall glass. Enjoy!
Recipe Notes
* When choosing a mango, pick one that is plump and heavy for its size.  Most importantly, the mango should be fragrant when held near your nose.
Comments and Reviews