These wonderful and tasty Lime Margaritas are made with fresh limes and are far superior in taste to any made from bottled lime juice or a margarita mix.  
One reason for the margarita's rise in popularity is that it is a very versatile recipe that lends itself to many variations in fruit flavorings.  Since its original creation, many variations of the traditional margarita have been created with fresh flavors like mango and prickly pear, plus more.
Also check out Fresh Mango Margarita, Blended Fresh Strawberry Margarita,  Blue Margarita, and Prickly Pear Margarita.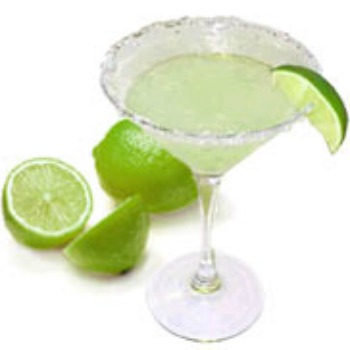 History of Margaritas:
There are several bars and bartenders (all from Mexico) that have staked a claim to the margarita.

1938 – One of the earliest stories is of the Margarita being invented in 1938 at the Rancho La Gloria Hotel, halfway between Tijuana and Rosarito, Mexico, by Carlos "Danny" Herrera, for a former dancer, named Marjorie King.  This story was related by Herrera and also by bartender Albert Hernandez, who is acknowledged for popularizing a Margarita in San Diego after 1947, at the La Plaza restaurant in La Jolla.  Hernandez claimed the owner of La Plaza, Morris Locke, knew Herrera and visited Mexico often.
1941 – Hussong's Cantina in Ensenada, Mexico claims to be the place where the Margarita was created by bartender Don Carlos Orozco.  He concocted a mixture of equal parts tequila, Damian, and lime, served over ice in a salt-rimmed glass for Margarita Henkel, daughter of the German Ambassador to Mexico.
1942 – Francisco "Pancho" Morales, of Ciudad Juarez, Mexico, is also credited with inventing the drink while working in Tommy's Bar.  It is said that a woman came in and asked for a "magnolia," a drink he had not heard of.  Pretending to know what she wanted, he shipped up a cocktail of tequila, Cointreau, and lime juice.  The woman love it and asked what the drink was called.  The rest is history. 
Lime Margarita Recipe - How To Make Fresh Lime Margaritas:
Keyword:
How To Make Fresh Lime Margaritas, Lime Margarita Recipe
Servings
:
2
to 3 servings
Ingredients
4

ounces

Tequila 

(good-quality)

1 1/2

ounces

Triple Sec

3

ounces

lime juice,

fresh-squeezed

2 to 3

ounces

Simple Syrup

(see recipe below)

Lots of

ice

(about 1 to 2 cups ice cubes)*

Coarse salt

(for rimming the glass)

Lime

slices (for garnish)
Instructions
Lime Margarita Instructions:
In a blender, combine Tequila, Triple Sec, lime juice, Simple Syrup, and ice. Whirl until ice is just crushed and mixture well blended (do not allow the ice to become a puree).

Serve in Margarita Glasses with coarse salt or Margarita Salt on the rims of the glasses and a lime slice.

NOTE: To create a salt-rimmed glass, take one of the lemon rinds from above and rub the drinking surface of the glass so it is barely moist. Dip the edge of the glass into salt.
Simple Syrup Instructions:
Dissolve 2 cups sugar in 1 cup water, until the water boils.  The longer you boil the water, the stronger the syrup.  Store mixture in the refrigerator.  Use in place of granulated sugar in drinks and cocktails.

NOTE: Be careful how much syrup you add to your cocktail. Most drinks call for one teaspoon of sugar (every batch of simple syrup is different). Remember you can always add more if needed.
Recipe Notes
* How much ice you use depends on your taste.  You may want to experiment with the ice.
Sources:
Albert Hernandez Sr.; margarita pioneer, restaurateur, San Diego Union-Tribune Obituary, by Jack Williams
Once upon a time in Mexico – The origin of the Margarita, Imbibe Magazine, March/April 2010
History of the Margarita, I'll Have What They're Having – Legendary Local Cuisine, by Linda Stradley.
Comments and Reviews