One of the newer food fads is the tasty Prickly Pear Margarita served by trendy restaurants across the Southwest.
The margarita was invented to act as a coping mechanism that both tasted good and made people feed cool in the hot weather of the region.  One reason for the margarita's rise in popularity is that it is a very versatile recipe that lends itself to variations in fruit flavorings.  Since it original creation, many variations of the traditional margarita have been created with fresh flavors like mango and prickly pear.  Whether plain, salted, straight up, on the rocks, or frozen, margaritas are made in an array of flavors and colors.
My brother and his wife, Jerry and Laura Stewart, of Tucson, Arizona did the taste testing on this recipe. They tasted and tasted until they felt the right ingredients had been achieved. They said, "The Prickly Pear Margaritas were fantastic!  We could not stop drinking them.  We especially like the color of the prickly pear juice, and we are margarita snobs!"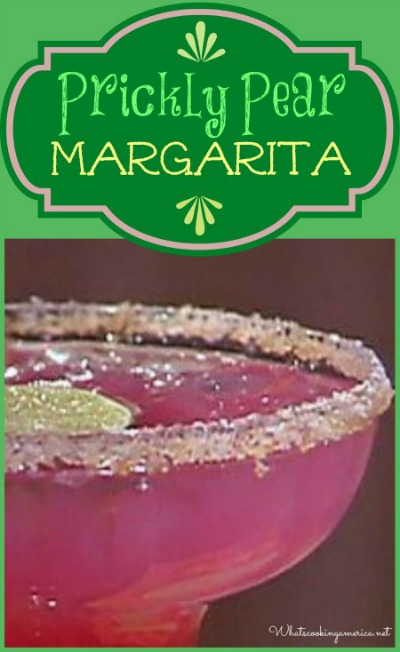 History of Prickly Pear Margarita:
This intriguing cocktail was created at The Fort restaurant in Morrison, CO, 17 miles southwest of Denver.  The restaurant is a replica of Bent's Fort, often visited by Kit Carson.  Here's how co-owner Samuel P. Arnold describes the origins of this drink in The Fort Cookbook:  "Stubby prickly pear cacti with their flat, pear-shaped lobes are a familiar sight throughout the Southwest.  In the days of Bent's Fort, traders sometimes came up from New Mexico bearing syrup made from prickly pear juice.  In the 1830s, references were made to cold prickly pear drinks at the South Platte River fur trade forts:  Lupton, Jackson, Vasquez and St. Vrain."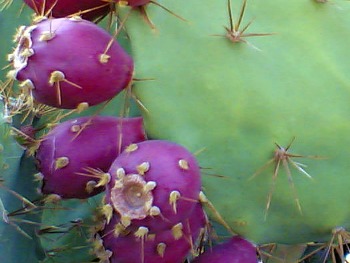 About Prickly Pears:  Prickly pear cactus has been a staple food of Native Americans for many centuries, with many varieties of prickly pear cacti growing wild throughout the deserts of the southwest.  In the 1500s, Cabeza de Vaca, and early explorer of the American Southwest, reported that the Native Americans celebrated the prickly pear harvest with festivities similar to today's Mardi Gras in New Orleans.
Only recently has the fruit become popular in western cuisines.  The fruits, or tunas, of prickly pears are commonly sold in the markets of Mexico and in the Southwest.  They can be eaten fresh, dried, or used for making juices and syrups.
Prickly Pear Margarita Recipe:
Keyword:
Prickly Pear Margarita Recipe
Ingredients
1/2

cup

ice, 

crushed

1

ounce

lime juice,

fresh-squeezed

1

ounce

frozen limade,

undiluted

2

ounces

Tequila

1 1/2

ounces

Triple Sec

1

ounce

Prickly Pear Cactus Juice*

1

tablespoon granulated

sugar

or corn syrup

Lime

wedges (for garnish)
Instructions
In a blender, add crushed ice, lime juice, Tequila, Triple Sec, prickly pear juice, and sugar or corn syrup; cover and mix ingredients (a pulsating action with 4 or 5 jolts of the blender works the best). At this point, a taste test WILL be required (while it's not necessary, it is a requirement - you will thank me later). Correct with additional sugar or corn syrup if it is too tart.

Serve in Margarita Glasses with coarse salt or Margarita Salt on the rims of the glasses and a lime slice, and serve immediately.

NOTE: To create a salt-rimmed glass, take a lemon or lime wedge and rub the drinking surface of the glass so it is barely moist. Dip the edge of the glass into coarse or Kosher salt.
Recipe Notes
* Named for its pear-like shape and size, this fruit comes from any of several varieties of cacti.  Also called cactus pear, the prickly pear has a melon-like aroma and a sweet but rather bland flavor.
Comments and Reviews