For our Madrid stopover, we booked an hotel near the airport in Barajas (a small town near the Madrid airport).  The shuttle bus driver had recommended Campanilla Restaurante, A Tapa Bar and Restaurant, when he dropped us off at our hotel.  Pepe, the owner of this wonderful family restaurant, demonstrated tableside how to make his "secret" Spanish Sangria and also made suggestions for ordering food for the table.
First, there is no such thing as traditional or authentic sangria.  You can always spot the tourists in a bar in southern Spain, as they are the ones drinking sangria. To the Spanish, this is a party drink and is there for one reason – to get you drunk very cheaply.  Thus, this drink is aimed almost exclusively at tourists and is charge appropriately.  Sangria is served throughout Spain in the summer months.  In the northern areas, it is considered a summer drink . In the eastern and southern areas of Spain, the drink is served all year.  Sangria recipes are not complicated and they vary from place to place, depending on what is on hand and what people prefer.  There is no science to making sangria – just do what tastes best!
Please check out my Spanish Paella Dinner Menu (with recipes) using this delicious Pepe's 'Secret' Spanish Sangria Recipe.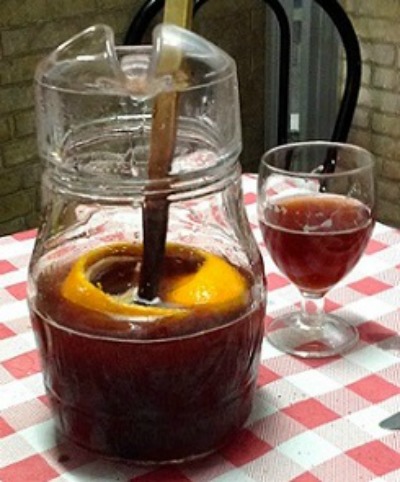 History of Spanish Sangria:
Sangria takes its name from the Spanish word "sangre" which means "blood" and refers to the blood-red color of the drink.  The original Sangaree (or Sangre of Sangoree) was a punch documented in London as far back as 1736.  The drink spread to the Spanish-speaking world and became known as "sangria" where it is based on Spanish wine.  In an article published in the Forth Worth Gazette newspaper, June 7, 1892, there was an excerpt that read:
"Her servants hand around trays of glasses filled with sparkling water or with what is called sangria – a very refreshing draught composed of equal portions of wine and water with sugar, ad libitum, and sufficient lemon juice to give it a pungent flavor."
Sangria is related to wine punches served throughout Europe.  It is closely connected with Spain as beer is with Germany and tequilla with Mexico.  In early years, the people of Spain would dilute the wine with water.  They later diluted the wine with fruit juice to make the taste even richer and to decrease the concentration of alcohol.  The real Spanish sangria is called tinto de verano.
Pepe demonstrating how to make his "secret" Spanish Sangria
Pepe's Secret Spanish Sangria Recipe:
I really like this version of sangria as it is very smooth and delicious tasting!
Keyword:
Pepe's Secret Spanish Sangria Recipe
Servings
:
4
to 6 servings
Ingredients
Zest

(rind) of 1 large orange

Zest

(rind) of 1 lemon

1/2

cup

Red Martini

(sweet vermouth)*

1/4

cup

Cognac

or Brandy

3/4

bottle

wine

(Spanish Rioja or red wine)**

1

tablespoon granulated

sugar

(optional)

1

can

orange Fanta soda

pop or similar orange soda***

1

can

lemon Fanta soda

pop or similar lemon soda***

4

ice

cubes
Instructions
Use a large glass pitcher, large enough to accommodate the liquid and fruit, when making your sangaria.

Place the rind (skin) of the orange and lemon in the bottom of your pitcher.

Add the Sweet Vermouth, Cognac, and red wine . If adding sugar, add it now . We did not add the sugar and it was delicious and sweet enough with it.

Using a long-handled wooden spoon, stir the mixture well, approximately 15 to 20 seconds. Pepe also pressed down on the fruit rinds, with the wooden spoon, to help release the flavors as he stirred.

Pour in the orange and lemon Fanta soda pops. Add the ice cubes and stir approximately 3 to 5 seconds. Pepe says not to add any additional ice.

If making your sangria ahead of time and refrigerating, do not add the soda pops or ice until ready to serve.

Serve the sangria in wine glasses of your choice. Add enough sangria to fill the glasses about 1/2 full.
Recipe Notes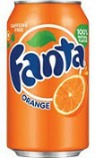 ** Basically, any red wine can be used in the making of sangria.  However, it is thought that a young, fruity red wine makes the best sangria.  Use only wines in your sangria that you would drink.  Never, never use any wine that you would not drink!   If you do not like the taste of a wine, you will not like the sangria you choose to use it in.  For more information, please read my article Cooking with Wine.
*** Fanta is a global brand of fruit-flavored carbonated soft drink created by the Coca-Coca
 Company.  If making your sangria in advance of serving, add the soda pops and ice just before serving.  Pepe says, "Use pop with gas. No gas - no life."
Comments and Reviews