Outside of New York City, the bialy is little known.  Bialys came to the United States from Bialystok, Poland, and they are sometimes known as Bialystok Kuchen.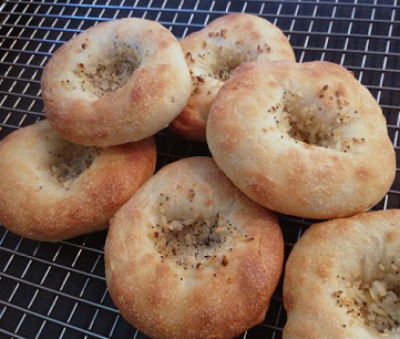 In the early 1900s, hundreds of thousands of Eastern European Jews immigrated to American and settled in New York City.  They brought with them their taste and recipes for bialys.  While there were once dozens of bialy bakeries in New York, the number can now be counted on one hand.  Bialys have long been a staple in New York delicatessens and a favorite of the Jewish community.  True bialy lovers know where the best bakeries are.  In fact, Manhattan's Lower East Side is lovingly called "Bialy Central."
A bialy is similar to a bagel, in that it is a round, chewy roll.  But it is unlike a bagel in three important ways:  One, it does not have a hole in the middle, but a depression; Two, bialys never became popular outside of New York City; and Three, bagels are boiled and bialys are baked.
The indentation in the middle of the dough is filled with onion, garlic, or poppy seeds.  Because the bialy has a very short shelf like, about 6 hours, they do not lend to being shipped around the country.  They can be modest in size, 3 to 4 inches, or the size of a small pizza.  Similar to the bialy is the onion pletzel and the onion board, popular Jewish breads from other countries.
Learn how to make more mouth watering bread recipes.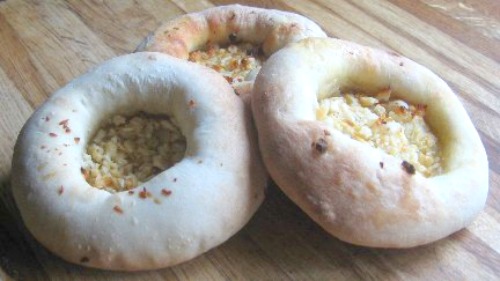 History of Bialys – Bialystok Kucken:
Jessica (Jess) Selin of Chicago sent the following interesting story about her family's history with the bialy:
My great-great-great grandfather, Moshe Nosovich, was a baker in Bialystok, then part of the Russian empire, and now part of Poland.  Despite the extensive research we have conducted, we do not know how he became such a successful man – a Jew owning three bakeries in czarist Russia.  It is perhaps doubly curious because the fashion in those days was for Jewish men to be pale and academic, while the women were more down-to-earth and worldly.  But he did well as a baker.  So much so, in fact, that family tradition holds him to be the inventor of the bialy, not a mere baker thereof.
Moshe had four children, three girls and a boy.  Two of the girls became involved in the bakeries.  My great-great-grandmother, Neshka, was one of those two girls.  She worked at the bakeries because her husband, pale and academic, and not the man Moshe had picked out for her (thus defying custom), died young.  She and her four children, all daughters, worked in the bakeries.  On very cold nights, they slept there as well, warming themselves on the residual heat of the ovens.  But we know they did not live over the bakery, as poorer shop owners did.  My great grandmother, Bella, talked about walking past the prison to get to the bakery.
Bella was the oldest of Neshka's four children and so started working fairly young.  There was a lot of work to do, as bialys were a central part of the Jewish diet in Poland, eaten at all three daily meals.  Perhaps she tired of this work, because she immigrated to the Untied States in 1899 when she was seventeen years old.  We do not know if she brought the family recipes for bialys or anything else.
After my family visited Bialystok in 1993, we confirmed where the family had lived and where the bakery had been.  A number of stories, including this one, went from Bella to Ida to Nina, to me; but alas, no bialy recipes.
Don Damiano, originally from Brooklyn, New York and now living in California, sent the following interesting story about the bialy roll and the Kuznitsky family:
While glancing through the Sunday papers, a familiar word caught my attention, Bialy Roll.  It happened to be an article by a book critic; the book's title was The Bialy Eaters.  The author was on a mission to find the origin of this delectable roll.  A simple flat roll with a dimple in the center, much like you would make with a thumb imprint.  This indentation carried a delicate layer of onion, lightly sprinkled with poppy seeds.  The dough was very much like that of pizza.  I found this article very interesting, as I am well aware of the delicious bialy roll, as an Italian boy from Brooklyn.  I came to California 38 years ago and married my beautiful Jewish bride, Janice, whose parents have been in the bakery business forever, going back to the town of Bialystok, Poland, where the Kuznitsky family originated.
I attended a funeral for my father-in-laws's sister.  After the services, we came back to the house to "nosh," as a old video was set up to show the Kuznitsky family in the old country of Bialystok, Poland.  How endearing to see the entire Kuznitsky family gathered together, as the children frolicked and adults waved with joyous broad smiles for the camera, knowing the video was going to the USA.  The video was taken by my father-in-laws' uncle, Jacob Kuznitsky.  Uncle Jake traveled to Bialystok, Poland around 1938/1939, to visit all the relatives in the old country.  Fortunately, he brought back the film with the lasting images and memories of the family.
This big Jewish family, I thought to myself, was very much like my Italian family, very close knit.  The video panned the entire group of over 50 people.  Then, one by one, they approached the camera for a close up smile with waving hand to say "hello."  As we watched the silent black and white video, the "oohs" and "aahs" came from the audience along with "Oh, there is Marilyn, there is Philip," and so on till the video ended.  Then the mother shocker was announced, "All the people you saw were swept away by the Nazis, taken to concentration camps, Auschwitz and Dachau, all killed, no survivors!"  The Kuznitsky family, over 50 people, were wiped out – lost family history.
I thought you might find this Kuznitsky family lineage interesting, going back to Bialystok, Poland.  Before the war, some of the family settled in Chicago, where this bakery family set up shop making cakes, rolls, bread, bagels, and the bialy roll.  In 1935, my father-in-law and his father, Phillip, opened a bakery in Los Angeles (Wabash Avenue, in Boyle Heights).  He also opened a bakery in Monterey Park with the aid of his wife, Coy.  Later to have his two sons, Larry and Phil, join their bakery efforts.  Their Atlantic Square Bakery was successful for over 40 years.  There is another Kuznitsky family bakery in Mission Hills, San Fernando Valley, which has been operated by the children of this family for over 40 years.
The bialy comes from Bialystocker Kuchen or bread from Bialystok, Poland.  In the old country, rich Jews ate Kuchen with meals – for the poor Jews, Kuchen was the meal.  Now for us in the states, it is mostly eaten in the morning, heated and topped with butter.  The most inventive bialy roll eaters would put cream cheese topped with lox, and the toppings go on and on.  As for me, I'm old fashion, and I like my bialy roll fresh from the bakery, heated with a spread of butter and with coffee.  This way I'm a very happy man!
Today, the town of Bialystok is not even a shadow of what it was.  There are a handful of Jews there, no Kuznitsky's and no bialy rolls can be found.  Hard to imagine, but both have lost their identity in Bialystok, Poland, where they both ironically originated!
However, the Kuznitsky's name flourishes in the states, as do the bialy rolls.
Brooklyn Bialy Recipe:
This wonderful recipe was sent to me by Bonni Lee Brown of Bradenton, Florida.  Bonni grew up in New York City where her father owned a pharmacy in Brooklyn.  Bonni says, "This is the closest recipe I've played with that approximates the fresh bialys my Dad would bring home on Sunday mornings.  I was never a big bagel fan, but cream cheese and lox on a bialy I could go for anything.  My children think these bialys are the best they've had outside of New York City."
Keyword:
Bialy History, Bialystok Kuchen Recipe, Brooklyn Bialy Recipe
Instructions
Bialy Rolls Instructions:
Cover two baking sheets with parchment paper and sprinkle lightly with cornmeal.

Prepare Onion Topping; set aside.

In a large bowl, combine 1/2 cup water, yeast, and sugar; let stand 10 minutes or until foamy. Add remaining 1 1/2 cups water, salt, bread flour, and all-purpose flour. Knead by hand or with dough hook of mixer for 8 minutes until smooth (the dough will be soft). If you think the dough is too moist - add flour, a tablespoon at a time. If the dough is looking dry and gnarly - add warm water, a tablespoons at a time.

Form dough into a ball and place in a lightly oiled bowl, turning to oil all sides. Cover with plastic wrap and let rise 1 1/2 hours or until tripled in bulk. Punch dough down in bowl, turn it over, cover with plastic wrap, and let rise another 45 minutes or until doubled in bulk.

On a floured board or counter, punch dough down and roll into a cylinder shape. With a sharp knife, cut cylinder into 8 rounds. Lay dough rounds flat on a lightly floured board, cover with a towel, and let them rest 10 minutes. Gently pat each dough round into circles (a little higher in the middle than at the edge), each about 3 to 4 inches in diameter.

Place bialys on prepared baking sheets, cover with plastic wrap, and let rise an additional 30 minutes or until increased by about half in bulk (do not let them over-rise).

Make an indention in the center of each bialy with two fingers of each hand, pressing from the center outward, leaving a 1-inch rim. Place approximately 1 teaspoon of Onion Topping in the hole of each bialy. Dust lightly with flour, cover with plastic wrap, and let rise 15 minutes.

Preheat oven to 425 degrees F.

Bake on upper and lower shelves of the oven for 6 to 7 minutes, then switch pans and reverse positions of pans (front to back), and bake another 5 to 6 minutes until bialys are lightly browned. These are soft rolls, and it is important not to bake them too long or they will be very dry. Remove from oven and let cool on wire racks.

After cooling, immediately place in a plastic bag (this will allow the exterior to soften slightly). These rolls are best eaten fresh, preferably lightly toasted and smeared with cream cheese. For longer storage, keep in the freezer.
Onion Topping Instructions:
In a small bowl, combine vegetable or olive oil, poppy seeds, onions, and salt; set aside.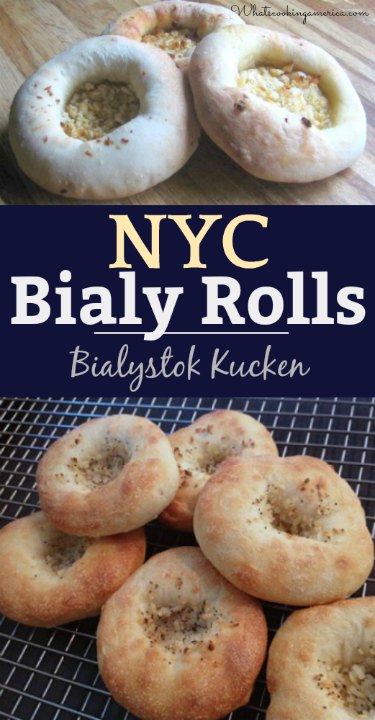 Comments and Reviews