Breakfast Sundae recipe is my favorite breakfast when I get to work.  My first stop at work is the kitchen where I whip up a fast, healthy, and energy packed breakfast filled with my favorite fruit and thick rich nonfat plain Greek yogurt.  It is said that breakfast is the most important meal of the day, so serve yourself a healthy morning start.
Feel free to use whatever type of yogurt you like and have fun with fresh seasonal or frozen fruit.  You will be the envy of the office with this colorful bowl of "go-get-um".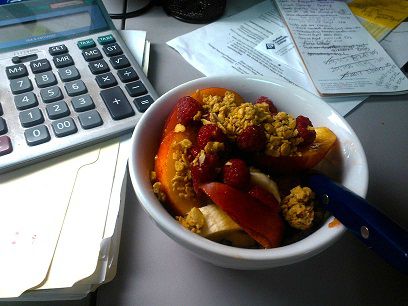 More of Linda's great Brunch and Breakfast Recipes for you and your family's breakfast needs.
Healthy Breakfast Sundae Recipe:
Keyword:
Healthy Breakfast Sundae Recipe
Ingredients
1/2

cup crunchy

granola

(your favorite brand or homemade)

1

cup

yogurt

(non-fat plain or vanilla)

Assorted fresh or frozen fruit

of your choice (such as blueberries, raspberries, nectarines, peach, mango, banana, etc.)
Instructions
In your serving bowl, sprinkle 1/4 cup granola.

Add 3/4 cup yogurt and then add your choice of fruit. Sprinkle remaining granola on top of the fruit.

Add a second layer of fruit and top with the remaining 1/4 cup yogurt.

So easy to make and so good - plus healthy!

 NOTE:  You may vary ingredients depending on your taste.
Comments and Reviews