Maple Bacon Biscuits will satisfy all bacon lovers as a whole pound of bacon is used in this recipe – yes, a whole pound of bacon!  
Wait until you try these luscious Maple Bacon Biscuits – what a great breakfast or brunch treat to serve your family and friends.  Serve these biscuits warm, fresh out of the oven.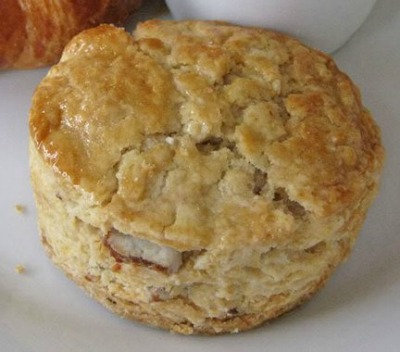 Maple Bacon Biscuits Recipe:
Keyword:
Maple Bacon Biscuits Recipe
Ingredients
1

pound

bacon

3 1/2

cups all-purpose

flour

2

tablespoons granulated

sugar

1

tablespoon

baking powder

1/2

teaspoon

baking soda

3/4

teaspoon

salt

1

cup (1/2 pound)

butter,

chilled and cut into 1/2-inch cubes

3/4

cup plus 2 tablespoons

pure maple syrup,

divided

3/4

cup plus 2 tablespoons

buttermilk,

cold*

1

egg

yolk

1

whole

egg

1

tablespoon

heavy cream

Fleur de Sel Salt,

sea salt, or coarse salt
Instructions
Preheat oven to 350 degrees F.  Line two (2) baking sheets with parchment paper.

Either fry or oven bake your bacon:

Frying Pan Bacon: In a medium-size frying pan over medium heat, cook the bacon, stirring frequently until cooked but not crispy, approximately 10 to 12 minutes. Remove the bacon to a paper towel-lined plate or pan to remove excess fat.

Oven Baked Bacon: The very easiest way to cook bacon is in the oven. Check out What's Cooking America's tutorial and video on how to make Perfect Oven Baked Bacon.

When the bacon has cooled enough to handle, chop or cut it into 1/2″ to 3/4″ pieces.

In a large bowl, whisk together the flour, sugar, baking powder, baking soda, and salt.

Using a pastry cutter, fork, or two knives, cut the diced butter into the flour mixture until it resembles small peas. Stir in the cooked chopped bacon, 1/4 cup plus 2 tablespoons maple syrup, and the buttermilk until the dough just comes together (it will be clumpy). Be careful not to overwork the dough.

On a lightly floured surface, gently press or roll the dough to 1-inch thickness (do not knead). Cut the biscuits using a 2-inch round biscuit cutter or drinking glass. You should have 24 biscuits. Place 12 biscuits on each of two prepared baking sheets, spaced 2-inches apart. Place the trays of biscuits in the freezer just until the biscuits are well chilled, approximately 10 minutes.

While the biscuits are chilling in the freezer, prepare the egg wash. I n a small bowl, whisk together the egg yolk, whole egg, and cream. R emove the chilled biscuits from the freeze and brush the tops of each biscuit with the egg was; top each biscuit with a pinch of fleur del sel salt.

Bake the biscuits until they just begin to brown, approximately 25 minutes (you should easily be able to pick the biscuits up off the tray).

Remove the tray from the oven. Quickly drizzle 1 teaspoon of the remaining maple syrup over the top of each biscuit, then place the tray back in the oven for 3 additional minutes. Remove from oven and serve while still warm.

Makes 24 (2-inch) biscuits.
Source:  This outstanding and very unusual Maple Bacon Biscuit recipe is by pastry chef Zoe Nathan of the Huckleberry Bakery and Cafe in Santa Monica, CA.  Photos were taken at the Huckleberry Bakery and Cafe.  Recipe was also posted in the Los Angeles Times in 2008.
You Might Also Like:
Perfect Flaky Buttermilk Biscuits
 – Homemade buttermilk biscuits are so easy to make, and if you follow a few simple rules, they will always turn out fluffy and delicious.
Herb and Cheese Biscuits
 – Delicious Herb and Cheese biscuits are cut into smaller sizes than regular biscuits.  They are delicious and good served anytime of the day.
Sourdough Biscuits
 – These easy-to-make and very delicious Sourdough Biscuits are another great recipe to use your sourdough starter.  Who doesn't like biscuits? Another way to use your
Sourdough Starter
.
Mom's Biscuits and Gravy
 – When I asked my husband what was his favorite meal that his mother used to make, he said; "Biscuits and gravy!  We must get Mom's recipe for her biscuits and gravy."  So here it is.
Comments and Reviews