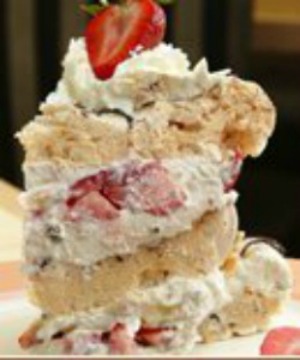 Boccone Dolce (Sweet Mouthful) is a classic northern Italian dessert.  It is a cake without any cake!  This cake is similar to a Pavlova with its layers of meringue.
The combination of strawberries and chocolate in a meringue is enough to send you right out of this world!  In fact, there are three crunchy meringue layers.  This a a yummy dessert to serve your family and friends during your local strawberry season, plus it is a guaranteed "show stopper" when served.
I adapted this Boccone Dolce recipe from A Treasury of Great Recipes by Mary and Vincent Price.
Click here to find out about Strawberry Hints, Tips, and Information and more delicious Strawberry Recipes.
Boccone Dolce (Sweet Mouthful) Recipe:
Keyword:
Boccone Dolce (Sweet Mouthful) Recipe
Instructions
Boccone Dolce Instructions:
Combine the chocolate pieces and the water; melt over hot water in a double boiler. When perfectly smooth, remove from heat and cool (but do not let harden).

In a large bowl, whip the cream until stiff; gradually add powdered sugar and then vanilla extract.

Place one (1) meringue layer on a serving plate, rounded side down.

Spread a VERY THIN coating of chocolate over the top. NOTE: GO EASY on chocolate - too much will make it impossible to cut cake!

Top chocolate with a layer (about 3/4-inch thick) of whipped cream.

Top the whipped cream with a layer of sliced berries.

Place a second layer of meringue on top of this, and repeat with a layer of sliced berries.

Top with final meringue, rounded side up, and frost sides and top smoothly with remaining whipped cream. Additional cream may be used to pipe a design onto sides and top of cake.



Refrigerator at least 4 hours or overnight. Garnish with several whole strawberries and chocolate curls.
Meringue Layers Instructions:
Preheat oven to 225 degrees F. Line baking sheets with parchment or waxed paper. Trace three (3), 8-inch circles on paper.

Using a mixer, beat egg whites, salt, cream of tartar, and vanilla extract until soft peaks form. Gradually beat in sugar and continue beating until meringue is stiff and glossy.

With a rubber spatula, spread meringue evenly and equally over top of each parchment paper circle.

Bake approximately 2 hours or until meringue becomes bisque colored. The low temperature will prevent them from browning too quickly. Then turn off oven, open oven door, and let the meringues "rest" in the oven another 15 minutes. Remove from oven and carefully peel off parchment or waxed paper. Put cake on racks to dry until thoroughly cool.

Once cooled, meringues may be wrapped in plastic wrap and frozen (if desired). I wrap each meringue in several layers of plastic, then stack (gently!) in a large plastic container for freezing. Remove from freezer at least an hour before assembling.
Recipe Notes
* Slice the strawberries:  One (1) pint of sliced strawberries is used between the cake layers, the other one (1) pint of sliced strawberries is sliced, sugared, and refrigerated to produce more juice (the sugared berries are served as a sauce).  Also save several whole berries for garnish.  
Strawberry Slicing Tip:  Use your egg slicer.  Stem the strawberries first, then slice just like you would a boiled egg.  Much quicker than using a knife.
Source:  Photo from Papa Hayden's Restaurant, Portland, Oregon.
Comments and Reviews