Cherry Clafouti recipe is an easy-to-make dessert using fruit suspended in a batter similar to that used for crepes.  Substitute a pound of pitted plums, peaches, berries, sliced apples or any other fresh fruit, if you wish.  A clafouti is often served as a breakfast dish.
Clafouti (kla-foo-TEE) is a traditional dessert from the Limousin region of France during the peak cherry season and is often served as a breakfast dish.  In France, the dish is often made without pitting the cherries because the pits are thought to enhance the flavor of the batter with a perfume faintly reminiscent of almonds.  Whole cherries are also less likely to bleed into the batter.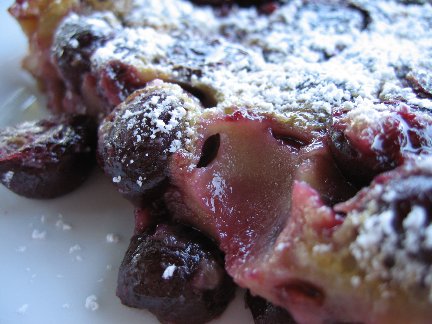 Check out the Basic Rules For Baking or here for Secrets Of A Successful Cake. Also check out more great Cake Recipes and Cast-Iron Cooking Recipes.
Cherry Clafouti Recipe:
Keyword:
Cherry Clafouti Recipe
Ingredients
1

tablespoon

butter 

4

eggs

1

cup granulated

sugar,

divided

1/2

teaspoon

pure vanilla extract

1/4

teaspoon

almond extract

1

tablespoon

brandy*

1

cup all-purpose

flour

1 1/2

cups

milk

1

pound sweet

cherries,

stoned or pitted**

Powdered sugar

(confectioners' sugar), for dusting
Instructions
Preheat the oven to 375 degrees F. Butter an ovenproof dish, deep dish pie plate, or cast iron skillet (at least 1 1/2-inches deep).

Place eggs, 3/4 cup sugar, vanilla extract, almond extract, brandy, flour, and milk in a blender: puree till smooth.

In a mixing bowl, toss the cherries with the remaining 1/4 cup sugar. Place three-quarters of the cherries and their juices in the bottom of the baking dish. Pour the batter over the fruit; arrange the remaining cherries on top.

Bake for 40 to 45 minutes or until the top is brown and a knife inserted into the middle of the dish comes out clean. Cake is done when the internal temperature registers approximately 160 degrees F. on your cooking thermometer.

Remove from the oven and cool for 5 minutes before serving (cake will sink slightly). Sprinkle with powdered sugar over the top with a sieve. Serve the Cherry Clafouti warm.

Yield: About 6 to 8 servings.

Variation Ideas: Substitute other seasonal fruit (pears, apples, berries, plums) for the cherries if you like. When using very juicy fruit, increase the amount of flour in the recipe to from 2/3 to 1 1/4 cups.
Recipe Notes
* I like to substitute Amaretto liqueur because of it's almond flavor.
**Use fresh black, sweet cherries in season.  Otherwise, use drained, canned, pitted Bing cherries or frozen cherries (thawed and drained).

I get many readers asking what cooking/meat thermometer that I prefer and use in my cooking and baking. I, personally, use the Thermapen Thermometer. Originally designed for professional use, the Super-Fast Thermapen Thermometer is used by chefs all over the world.  I only endorse a few products, on my web site, that I like and use regularly.
You can learn more or buy yours at: Super-Fast Thermapen Thermometer.
Sponsored Content
Comments and Reviews