Panforte Di Siena – Italian Siena Cake – Italian Christmas Cake
An Italian confection, this Fig and Walnut Panforte, is a cross between fruit cake, candy, and honey cakes called Lebkuchen (lasting cakes).  It is a wonderful confection and so easy to make.
I usually make this Italian Siena Cake for the Christmas season, but it is wonderful any time of the year.  It is best eaten, sliced into very thin slices, and served after dinner with an good port wine or a dessert wine, tea or coffee.  Originally a Christmas pastry, Fig and Walnut Panforte is now enjoyed year round by Italian cuisine enthusiasts.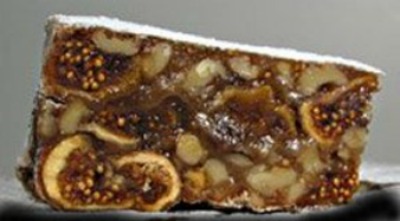 Fig And Walnut Panforte Recipe:
Keyword:
Fig And Walnut Panforte Recipe, Italian Christmas Cake Recipe, Panforte Di Siena Recipe
Ingredients
1 1/2

cups

walnuts, 

toasted*

1/2

cup

yellow raisins

1/2

cup

currants

1/2

cup

figs,

dried and chopped

1/2

cup all-purpose

flour
Zest

of one lemon

Zest

of one orange

1

teaspoon

cinnamon,

ground

1/4

teaspoon

cloves,

ground

1/4

teaspoon

nutmeg,

freshly ground

1/4

teaspoon

coriander,

ground

1/4

teaspoon

cardamom,

ground

Pinch of

white pepper

3/4

cup granulated

sugar

3/4

cup

honey

2

tablespoons

unsalted butter
Instructions
Preheat oven to 300 F. and adjust oven rack to center position. Brush an 8-inch cake pan or an 8-inch Springform Pan with butter. Cut a dish of parchment paper, or rice paper* to fit pan bottom; pat gently into place and spray with nonstick spray. NOTE: If using Asian-style rice paper, wet the paper to make it easier to cut, then trim it to the correct size with scissors.

In a small bowl, mix the walnuts with the raisins, currants, figs, flour, orange zest, lemon zest, cinnamon, cloves, nutmeg, coriander, cardamom, and white pepper; set aside.

In a medium saucepan over low heat, combine the sugar, honey, and butter.  Cook, stirring occasionally to prevent scorching, until mixture comes to a full boil and reaches a temperature between 242 degrees F. and 248 degrees F. on a candy thermometer (soft ball stage); remove from heat.  Immediately pour into the walnut mixture and stir together quickly.

Pour batter into prepared springform pan. Smooth top with the slightly wet palm of your hand. It hardens quickly so work fast.

Place cake in center of middle oven rack. Bake about 30 to 40 minutes until set. Remove from oven; cool completely on a wire rack.

When cool, loosen panforte from pan by running a small knife around perimeter (if using a springform pan, remove sides of springform pan). Use knife to peel away parchment paper.

When cool, it can be wrapped in several layers of plastic wrap and a layer of aluminum foil and stored in an airtight container for several weeks, or frozen for up to six months. Serve at room temperature. Cut into small wedges to serve.
Recipe Notes
* To toast nuts, preheat oven to 350 F.  Place nuts in a single layer in an ungreased shallow pan or rimmed baking sheet.  Bake 5 to 10 minutes, stirring once or twice during toasting to aid in even browning, or until they are golden brown.  Remove from oven and remove from pan; let cool.
Sources:  This recipe is by Chefs Duskie Estes and John Stewart of the restaurants Zazu Restaurant and Bovolo Restaurant in Sonoma County, California.  I slightly adapted this recipe.  Photo from Crixa Cakes in Berkerly, CA.
Comments and Reviews