Panforte Di Siena is an Italian confection that is a cross between fruitcake, candy, and honey cakes called Lebkuchen (lasting cakes).  This cake is a wonderful confection and so easy to make.  I usually make these Italian Panforte Di Siena cakes for the Christmas season, but it is wonderful anytime of the year.  They are best eaten sliced into very thin slices and served after dinner with an good port wine or a dessert wine, tea or coffee.
The name panforte, "strong bread," is due to its strongly spicy flavor.  In Italy it is also called Siena cake.  Originally a Christmas pastry, panforte is now enjoyed year round by Italian cuisine enthusiasts.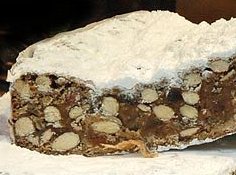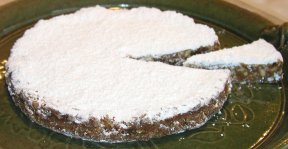 History of Panforte Di Siena:
This cake is a specialty of Siena, Italy that dates back to the 13th century.  The first documents, found among Siena's historic papers, are various testimonies from February 7, 1205 that are written on parchment paper and conserved in the archives of the state of Siena.
The parchment paper was found around the second half of the 1800's in the archives of the hospital of Siena.  It had come from the estate of the Castle of Montisi, which belonged to the Cacciaconti family.  It is written that, on that date the servant and inhabitants of the monastery of Montecellesi (today Montecelso) were obliged to bring the nuns a good number of Panes pepatos et melatos (bread with pepper and honey) as a form of tax.  The idea of adding spices to the original recipe of "Pan Melato" was said to have been Nicold Salimbeni's, also called "Muscia".
In the archives of Genoa, it was recorded that Panforte was one of the most famous sweets in Italy.  Panforte's success soon crossed the boundaries of Siena and many documents record its presence on the "menus" of the feast of rich noble men in every part of Italy.
Check out more of Linda's wonderful Cake Recipes.
Panforte Di Siena - Italian Siena Cake Recipe:
Keyword:
Italian Siena Cake Recipe, Panforte Di Siena Recipe
Ingredients
Italian Siena Cake:
1/2

cup plus 2 tablespoons

cake flour, 

divided

1 1/2

teaspoons ground

cinnamon,

divided

1/4

teaspoon ground

coriander

1/4

teaspoon ground

cloves

1/4

teaspoon ground

nutmeg

1/2

cup

honey

1/2

cup granulated

sugar

1/2

cup

citron

or melon, candied and cut into small pieces

1/2

cup

orange peel,

candied and cut into small pieces

1

cup

almonds

or hazelnuts, toasted and coarsely chopped*

Powdered sugar

(confectioners' sugar)
Bread Crumb Lining:
1

tablespoon

cake flour

1

tablespoon fine

bread crumbs

2

tablespoons

almonds

or hazelnuts (your choice), ground
Instructions
Italian Siena Cake Instructions:
Preheat oven to 300 degrees F. and adjust oven rack to center position.

Prepare Bread Crumb Lining and line the baking pan; set aside.

In a small bowl, combine 1/2 cup cake flour, 1 teaspoon cinnamon, coriander, cloves, and nutmeg; set aside.

In another small bowl, combine the remaining 2 tablespoons of cake flour and 1/2 teaspoon cinnamon; set mixture aside and save for the top.

In a medium saucepan over low heat, combine honey and sugar. Cook, stirring occasionally to prevent scorching, until mixture comes to a full boil; remove from heat. Stir in candied fruit and almonds or hazelnuts. Sift in flour mixture; stir until well blended. Pour batter into prepared pan. Smooth top with the slightly wet palm of your hand. Sift reserved cinnamon-flour mixture over the top.

Place cake in center of middle oven rack. Bake 30 minute or until panforte just starts to simmer around edge of pan. Remove from oven; cool completely on a wire rack.

Loosen from pan by running a small knife around perimeter (if using a Springform Pan, remove sides of springform pan). Invert onto a wire rack, letting excess cinnamon flour fall away. Use knife to peel away parchment or rice paper. Invert panforte again and transfer onto a wire rack. Dust top with powdered sugar.

When cool, it can be wrapped in several layers of plastic wrap and a layer of aluminum foil and stored in an airtight container for several weeks, or frozen for up to six months.

Serve at room temperature. Before serving, dust lightly with additional powered sugar. Cut into small wedges to serve.
Bread Crumb Lining Instructions:
Brush an 8-inch cake pan or an 8-inch Springform Pan with butter. Cut a dish of parchment paper, or rice paper* to fit pan bottom. Brush paper with butter and fit into pan bottom. If using Asian-style rice paper, wet the paper to make it easier to cut, then trim it to the correct size with scissors.

In a small bowl, combine cake flour, bread crumbs, and almonds or hazelnuts; evenly scatter over sides and bottom. Pat gently into place.
Recipe Notes
* To toast nuts, preheat oven to 350 F.  Place nuts in a single layer in an ungreased shallow pan or rimmed baking sheet.  Bake 5 to 10 minutes, stirring once or twice during toasting to aid in even browning, or until they are golden brown.  Remove from oven and remove from pan; let cool.  If using hazelnuts, remove from pan; place hazelnuts in a clean terry-cloth towel and wrap it closed.  Let the nuts steam for 4 to 5 minutes then rub vigorously for 1 to 3 minutes on a hard surface to remove skins; discard skins.
Panforte Variation Ideas:
Chocolate Panforte – Follow recipe for Panforte Di Siena, making the following changes:  Add 4 ounces chopped semisweet chocolate to honey and sugar mixture after it is removed from the heat.  Cover and let stand 2 minutes or until chocolate melts.  Add 1/4 teaspoon salt to the flour and spices.
Date Panforte – Follow recipe for Panforte Di Siena.  Substitute 1/2 cup chopped dates for 1/2 cup candied citron or melon.
Dried Fruit Panforte – Follow recipe for Panforte Di Siena, making the following changes: reduce candied citron and orange peel from 1/2 cup to 1/4 cup each.  Add 1/4 cup each of stemmed and finely diced dried figs and dried apricots.  Also check out my Fig and Walnut Panforte recipe.
Comments and Reviews