Chocolate Peanut Butter Cheesecake makes you feel like a child again, eating your favorite candy bar – yes your candy bar.  A chocolate and peanut butter lover's delight!
Anything chocolate makes it on my list of dessert favorites, and this Chocolate Peanut Butter Cheesecake is one of those desserts.  This cheesecake is absolutely wonderful.  One bite and I think you will agree this cheesecake is pure bliss.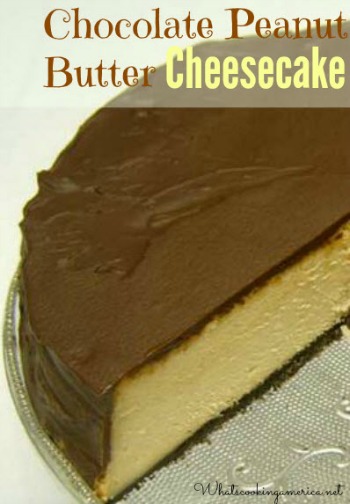 Chocolate Peanut Butter Cheesecake Recipe:
Keyword:
Chocolate Peanut Butter Cheesecake Recipe
Servings
:
10
to 12 servings
Ingredients
Chocolate Peanut Butter Cheesecake:
2

(8-ounce) packages

cream cheese,

room temperature*

1 1/2

cups granulated

sugar

1

cup

creamy peanut butter

5

eggs,

room temperature

1/2

cup

sour cream

2

tablespoons

lemon juice,

fresh-squeezed

1

cup semisweet

chocolate

chips
Chocolate Crust:
1 1/2

cups (about 22 cookies)

cream-filled chocolate cookie crumbs,

including the filling**

3

tablespoons

butter,

melted
Instructions
Chocolate Peanut Butter Cheesecake Instructions:
Preheat oven to 350 degrees F. and position rack in center of oven (too high or too low of rack placement will cause baking problems). NOTE: Use a conventional (regular) oven rather than a convection oven in baking your cheesecake. The forced hot air from the convection oven causes too much browning and can often cause the center of the cheesecake to collapse.

In a large bowl, combine cream cheese, sugar, and peanut butter. Add eggs, one at a time, beating after each addition. NOTE: Do not over beat the mixture. You want to avoid beating air into the mixture. Too much air will make the cheesecake fall.

Add sour cream and lemon juice. Add chocolate chips, mixing until blended into the mixture. Pour cheesecake mixture into prepared cookie crust, using the back of a spoon to spread evenly over the crust (this helps get rid of any extra air bubbles).

Place cheesecake in center of middle oven rack. Position a baking pan filled halfway with hot water on lower rack. Bake 15 minutes, then lower own temperature to 300 degrees and bake another 70 minutes or until edges are light brown and center is almost set. NOTE: There should be no wet spots or liquid areas in the center of the cheesecake. Remember that a cheesecake continues to cook when it is removed from the oven.

How to tell when cheesecake is done cooking: The cheesecake is done when center is almost set, but jiggles slightly when gently shaken. For a perfect cheesecake, use a cooking thermometer and take it out of the oven when the cheesecake reaches 150 degrees F. at the center to avoid over baking. Expect a slight shrinkage as it cools. If there is great shrinkage, you have baked it at too high a heat.

How to prevent cracks in your cheesecake: When the internal temperature of a cheesecake rises beyond 160 degrees F. while baking, it will always crack. To prevent this from happening, use an instant-read cooking thermometer to test its doneness. Take it out of the oven when the cheesecake reaches and internal temperature of 150 degrees F. at the center to avoid over baking.

Turn oven off. Let cake stand in oven, with door ajar, 30 minutes or until center is completely set. Remove from oven and cool completely on a wire rack. NOTE: A wonderful looking baked cheesecake (with no cracks), can crack as it sits on the cooling rack because the cake shrank during cooling and clung to the sides of the springform pan. To avoid this from happening, cool the cheesecake for only a few minutes, and then, using a paring knife, free it from the sides of the pan before allowing it to cool completely.

Prepare Chocolate Topping. Spread Chocolate Topping over cooled cheesecake. Let Chocolate Topping cool and set.

Once the cheese cake is cooled, cover with plastic wrap and refrigerate 12 to 24 hours before cutting (the cheesecake will solidify to a perfect consistency during this time).

To serve, slide a small knife around edge of cake to loosen it and remove sides of the springform pan; transfer onto a cake plate.
Chocolate Crust Instructions:
Lightly grease (butter) a 9-inch springform pan. In a food processor, whirl cookie crumbs to fine crumbs. Add butter; whirl 5 to 10 seconds more. Place crumb mixture onto bottom of prepared pan being careful not to get crumbs on sides of pan. Press crumb mixture firmly and evenly over the bottom. Bake 10 minutes. Remove from oven and cool crust completely on a wire rack.
Chocolate Topping Instructions:
In a medium bowl combine sour cream, melted chocolate chips, and powdered sugar.
Recipe Notes
* To quickly bring cream cheese to room temperature, place unwrapped package(s) in a microwaveable bowl.  Microwave on HIGH for 30 to 45 seconds or until slightly softened.  Do not let it melt or get warm - refrigerate if it does.
** I like to use Oreo cookies

I get many readers asking what cooking/meat thermometer that I prefer and use in my cooking and baking. I, personally, use the Thermapen Thermometer. Originally designed for professional use, the Super-Fast Thermapen Thermometer is used by chefs all over the world.  I only endorse a few products, on my web site, that I like and use regularly.
You can learn more or buy yours at: Super-Fast Thermapen Thermometer.
Sponsored Content
Cheesecake Hints and Tips:
Baking Cheesecake Ahead Of Time
Comments and Reviews