Rhubarb Meringue Cake is a classic German dessert, know as
Rhabarberkuchen
, will melt in your mouth as it is so good!  If you love rhubarb, this is a must try recipe.  The sourness of rhubarb is perfectly complemented by the sweet meringue.  
During the springtime, when fresh rhubarb is at it is peak, be sure and make this delicious Rhubarb Cake.  Did you know that rhubarb is really a vegetable and not a fruit?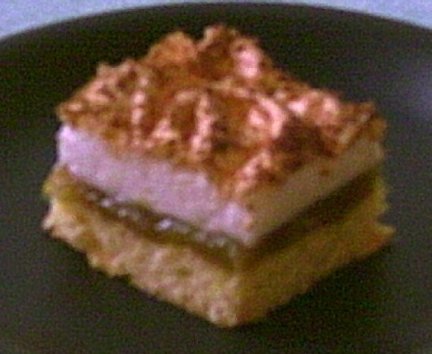 Check here for Basic Rules For Baking or here for Secrets Of A Successful Cake.  Also check out more great Cake Recipes.
Rhubarb Meringue Cake Recipe:
Keyword:
Rhabarberkuchen Recipe, Rhubarb Meringue Cake Recipe
Ingredients
Butter Crust:
1/4

cup

unsalted butter

1/4

cup granulated

sugar

1

egg

1

teaspoon

pure vanilla extract

1 1/4

cups all-purpose

flour

1

teaspoon

baking powder

1/4

teaspoon

salt
Rhubarb Filling:
3

cups fresh

rhubarb,

chopped

1/2

cup granulated

sugar

2/3

teaspoon

cinnamon,

ground

3

tablespoons

water

plus 2 tablespoons water

3

tablespoons

cornstarch
Instructions
Rhubarb Meringue Cake Instructions:
Preheat the oven to 350 degrees F. Grease a 8- x 8-inch square baking pan.

Prepare Butter Crust. Bake crust for approximately 15 minutes or until firm. Remove from oven and set aside.

Prepare Rhubarb Filling. Spread prepared filling over the baked crust; set aside.

Prepare Meringue Topping. Spread prepared meringue over the layer of rhubarb sauce and sprinkle the grated coconut over the top.

Bake approximately 10 to 15 minutes or until the meringue is golden brown. Remove from oven and let cool completely before cutting into squares or slices.
Butter Crust Instructions:
In a medium bowl, cream together the butter and 1/4 cup sugar until fluffy. Beat in the egg and vanilla extract.

In another bowl, combine the flour, baking powder and salt. Stir into the butter mixture until a stiff dough forms. Press the dough into the bottom and 1/2 inch up the sides of the prepared baking pan.
Rhubarb Filling Instructions:
In a large saucepan, combine the rhubarb, 1/2 cup sugar, cinnamon, and 3 tablespoons water. Bring to a boil and cook until the rhubarb is tender, approximately 10 minutes.

In a small bowl, mix the remaining 2 tablespoons water with the cornstarch; stir into the rhubarb mixture in the pan. Cook, stirring constantly, until the mixture has thickened. Remove from heat and spread over the baked crust.
Meringue Topping Instructions:
In a large bowl, beat the egg whites together with the salt until peaks form. Gradually add the 1/2 cup sugar, continuing to beat the whites until stiff peaks form.
Source:  This very delicious Rhubarb Meringue Cake recipe and photo are from the website Rosa's Yummy Yums.
Comments and Reviews