Grilled Candied Salmon is a Oh-My-Goodness Salmon Recipe – It is that good! This Candied Salmon melts in your mouth. This is a quick and easy recipe for a sweet and savory salmon that is so delicious. This salmon is so good that even people who do not like fish become devoted converts after just one bite.
Make this dish when you want to impress your guests with an elevated outdoor dining experience. It is very easy to make but also elegant, the perfect option for any summer barbecue. A delicious recipe, both on the day it is made and cold the day after! My grandchildren love this salmon recipe! When they were younger and came to visit me, they always ask me to make this grilled candied salmon for them.
The taste of this Grilled Candied Salmon reminds me of the famous Indian Candy which are heavily smoked strips of salmon to almost a jerky. Just like Indian Candy, this recipe is a little sweet and savory.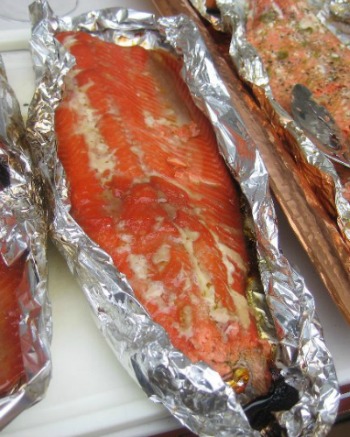 More of Linda's great Salmon Recipes and also How To Select, Buy, and Cook Fish.
Grilled Candied Salmon Recipe:
Keyword:
Grilled Candied Salmon Recipe
Ingredients
3/4

cup

genuine maple syrup

1/4

cup

soy sauce

4

(6-ounce)

salmon

filets or 1 large salmon filet

1/4

teaspoon

black pepper,

coarsely-ground

Coarse

salt or kosher salt
Instructions
In a small bowl, make the marinade by combining the maple syrup and soy sauce. Pour the marinade into a large plastic re-sealable bag.

Add salmon filets. Press out the air and seal the bag tightly, then turn the bag several times to distribute the marinade around the salmon.

Refrigerate a minimum of 4 hours and as long as 24 hours, turning salmon frequently.

Preheat barbecue grill to medium-high temperature (350 degrees F).

Remove salmon from marinade and generously spread olive oil on both sides of each filet. Place salmon onto a large piece of aluminum foil. Pat top side of salmon only with coarse black pepper. Sprinkle coarse salt over the top.

Place salmon with aluminum foil onto hot grill, cover barbecue with lid, and open any vents. Cook, pepper side up, approximately 8 to 12 minutes or until a meat thermometer registers an internal temperature of 140 degrees F. (salmon will be slightly opaque in thickest part). NOTE: During this time the salmon continues to cook (meat temperature will rise 5 to 10 degrees after it is removed from the grill) and the juices redistribute.

Approximate Cooking Times for Salmon:

1/4 to 1/3-inch - 3 to 4 minutes

1/2 to 3/4-inch - 4 to 6 minutes

1 to 1 1/2-inch - 8 to 12 minutes

Carefully remove salmon from grill and transfer onto individual serving plates or platter. Serve immediately.

I get many readers asking what cooking/meat thermometer that I prefer and use in my cooking and baking. I, personally, use the Thermapen Thermometer. Originally designed for professional use, the Super-Fast Thermapen Thermometer is used by chefs all over the world.  I only endorse a few products, on my web site, that I like and use regularly.
You can learn more or buy yours at: Super-Fast Thermapen Thermometer.
Sponsored Content
Comments and Reviews