Avocado Chocolate Truffles!  Yes, you read it right.  This is a recipe using the secret ingredient of avocados.  You absolutely will not believe how delicious these Avocado Chocolate Truffles are until you have tried this very quick and easy recipe.  Guess what, these truffles are also considered healthy.   A decadent, melt in the mouth Chocolate Truffle, with no heavy cream or butter.  You thought Avocados were only for guacamole.  The texture is smooth and creamy as the avocados mixes wonderfully with the chocolate to create these little bites of pure joy.  So if you have a little hankering for something sweet, these would be a good choice.  But, beware, these chocolate truffles are very rich and so hard to stop eating!
Avocados must be used when fully ripe.  They do not ripen on the tree and are rarely found ripe in markets.  Fresh avocados are almost always shipped in an unripe condition.  To test for ripeness by cradling an avocado gently in your hand.  Ripe fruit will yield will be firm, yet will yield to gentle pressure.  If pressing leaves a dent, the avocado is very ripe and suitable for mashing.  They are best served at room temperature.
More Avocado Recipes and learn about the History of Avocados.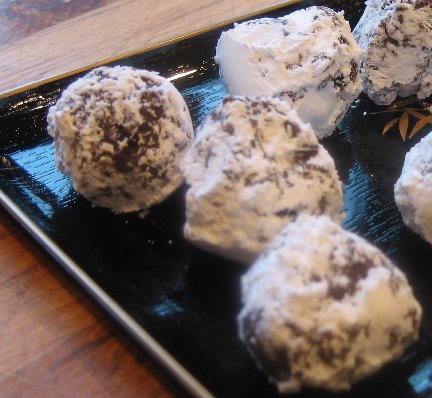 Avocado Chocolate Truffle Recipe:
Keyword:
Avocado Chocolate Truffle Recipe
Ingredients
1/2

cup

butter

1

large

avocado

(very ripe), peeled and pit removed*

1 1/2

teaspoons

pure vanilla extract 

1 1/4

cups unsweetened

cocoa

3

cups

powdered sugar

(confectioners' sugar)

Powdered sugar

(for rolling)
Instructions
In a large saucepan over low heat, melt butter; remove from heat; set aside.

In your food processor or food blender, puree the avocado until a smooth consistency. If you add a little of the melted butter to the avocado, it helps in the process. Be sure there are no chunks of avocado left.

Add the avocado puree, vanilla extract, cocoa, and powdered sugar into the saucepan with the remaining melted butter. Mix until well combined. Place the chocolate mixture into the refrigerator until it hardens.

When chocolate mixture has hardened, remove from refrigerator. Line a sheet pan or cookie sheet with waxed paper or parchment. Using a cold metal teaspoon, melon baller, or a mini ice cream scoop and your hands, roll the chocolate into small balls about 3/4-inch diameter and arrange them on the sheet pan. If the mixture gets too soft to mold easily, put it back in the freezer for a few minutes. Place the cookie sheet of chocolate balls in the refrigerator until firm.

Once the truffles have hardened, remove from the refrigerator and shape into balls by rolling between the palms of your hands. Roll in powdered sugar to coat the outside.

Place the finished truffles in the refrigerator until they are set. They should be stored in a covered container in the refrigerator until ready to serve. Bring to room temperature when ready to serve.
Recipe Notes
* If an avocado is ripe, it will yield to a gentle pressure.
Comments and Reviews