Chocolate Mint Truffles are awesome and will definitely get "oohs" and "ahhs" from your guests!  They make an impressive accompaniment to after-dinner coffee – a great way to end a meal.  To me, there is nothing better tasting than the combination of chocolate and mint – they are a chocolate "bomb."  Mint chocolate truffle combine all the smooth, creamy goodness of a traditional chocolate truffle with the burst of taste that comes along with mint.They are so easy to make and taste fantastic!
Chocolate Mint Truffles make an excellent Christmas gift and are very well received, but be sure to save some for you and you family.  They are popular for just about any season, and they make great gifts as well as accents at any party.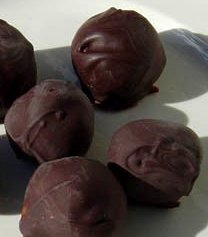 Chocolate Mint Truffle Recipe:
Keyword:
Chocolate Mint Truffle Recipe
Ingredients
3

tablespoons

heavy cream

or whipping cream

1/2

cup

mint

leaves, fresh

8

ounces

white chocolate,

chopped into small pieces*

2

tablespoons

creme de menthe liqueur

(white or green)

1/4

cup

unsalted butter,

cut into pieces

8

ounces bittersweet

chocolate,

chopped into small pieces*
Instructions
In a medium-sized saucepan over medium heat, heat the cream and mint leaves just to a slight boil. Remove from heat and let the cream and mint leaves infuse to flavor the cream for approximately 2 to 3 minutes. Strain mint leaves out of the cream; discard mint leaves.

Add the white chocolate pieces, creme de menthe, and butter to the hot cream; allow to stand for 5 minutes.

Stir mixture in a slow, circular motion. The molten chocolate and cream will blend slowly, and then become smooth and glossy (this glossiness is a good sign that the suspension is stable). If not all the chocolate has melted, you can heat the ganache gently over a hot pot of water. Stir until the chocolate melts and is smooth. This is now called a "ganache."

When the ganache is first made, it is still too warm and soft for easy handling. Pour the chocolate mixture into a shallow bowl and cover the bowl with plastic wrap, pressing the film onto the surface of the chocolate to prevent a thin skin from forming. Place the ganache in the freezer until firm (about the consistency of modeling clay) but not frozen, about 30 to 45 minutes.

Line a sheet pan or cookie sheet with waxed paper or parchment. Using a cold metal teaspoon, melon baller, or a mini ice cream scoop and your hands, roll the ganache into small balls about 3/4-inch diameter and arrange them on the sheet pan. If the mixture gets too soft to mold easily, put it back in the freezer for a few minutes. Place the cookie sheet of while chocolate balls in the freezer until firm.

In the top of a double boiler over hot water, melt the bittersweet chocolate until smooth. Dip the frozen white chocolate balls in the melted chocolate. Try to coats the balls evenly and try to minimize the amount that drips off the balls onto the wax paper. Place dipped truffles on another cookie sheet lined with wax paper.

Place the finished truffles in the refrigerator until they are set. Once the chocolate coating has hardened, they should be stored in a covered container in the refrigerator until ready to serve. Bring to room temperature when ready to serve.
Recipe Notes
* Use a good-quality bittersweet chocolate.  The taste and quality of the truffle is primarily dependent on the quality of chocolate you start with.
Bittersweet Chocolate:  Still dark, but a little sweeter than unsweetened.  It is unsweetened chocolate to which sugar, more cocoa butter, lecithin, and vanilla has been added.  It has less sugar and more liquor than semisweet chocolate but the two are interchangeable in baking.  Bittersweet has become the sophisticated choice of chefs.  It contains a high percentage (up to 75%) of cocoa solids, and little (or no) added sugar. 
Comments and Reviews