These Cognac Laced Truffles are a decadent candy to add to your holiday candy making.  Truffles rule, especially the boozy kind!  These candies are rated adult only!  A must to make for holiday gift trays.  You will not be able to say no to these chocolate candies. You can have your chocolate and diet too – just watch how many of these Cognac Laced Truffles you eat.
More wonderful Chocolate Recipes and Candy Recipes.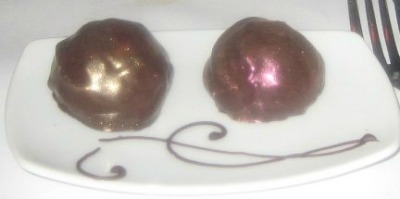 For more great Low Fat Recipes, Low Calorie Recipes, Low Carbohydrate Recipes, and Diabetic Recipes, check out my Diet Recipe Index.  Also check out my Nutritional Chart for fat grams, fiber grams, carbohydrate grams, and calories for all your favorite foods.
Cognac Laced Truffles Recipe:
Keyword:
Cognac Laced Truffles Recipe
Instructions
Cognac Laced Truffles Instructions:
Line two (2) baking sheets lined with waxed paper.

Heat cognac in a small saucepan just to simmering. Remove from heat. Add cream and then bring just to a simmer again; remove from heat.

Place all the chocolate (semi-sweet, white, and unsweetened) and 3/4 cup confectioners' sugar in a food processor and whirl 1 to 2 minutes or until finely chopped. With machine running, add hot cream mixture in a steady stream. Process until smooth. Scrape into a medium-size bowl. Refrigerate just until thick enough to hold shape, about 1 hour.

After refrigerating, drop chocolate mixture by rounded teaspoonfuls onto prepared baking sheets. With your hands, quickly shape into balls (refrigerate to firm while working if necessary). Place chocolate truffle balls in the freezer for 30 minutes to firm up.

Prepared Chocolate Coating.

Add chocolate truffle balls, three (3) at a time; toss to coat.

Refrigerate in airtight containers up to 1 month. Serve at room temperature.
Chocolate Coating Instructions:
Sift cocoa powder and confectioners' sugar into a small bowl.
Source:  Recipe adapted from Family Circle Magazine's All Time Favorite Recipes, 1997,
Comments and Reviews