Chocolate Fruit and Nut Easter Egg Candy is so delicious and so rich!   Why spend money on stale Easter candy when you can very easily make your own candy with this outstanding.  Easter time is a great time to make your own special candy treats.  So, surprise your family and friends with this delicious homemade fruit-filled Chocolate Fruit and Nut Easter Egg Candy.  You could substitute any candied fruit of your choice for the cherries.  I, personally, just like the cherries!
I know that there are many Easter treats that you can purchase, but instead help out the Easter bunny and fill the baskets with these delicious homemade sweets.  Try these, you will absolutely LOVE THEM!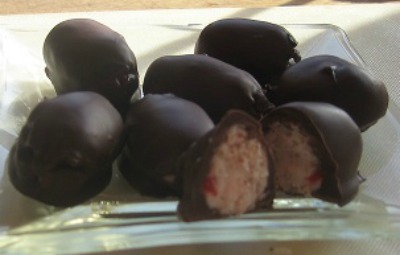 Chocolate Fruit and Nut Easter Egg Candy Recipe:
Keyword:
Chocolate Fruit and Nut Easter Egg Candy Recipe
Servings
:
48
small candies
Ingredients
1/4

cup

butter,

room temperature

4

ounces

cream cheese

(light or regular), room temperature

1/4

teaspoon

pure vanilla extract

4 1/2

cups

powdered sugar

(confectioners' sugar)

1/4

cup (4 ounces)

Maraschino Cherries,

drained well and finely chopped

1/2

cup

pecans

or walnuts, finely chopped

1/2

cup

coconut,

shredded

1

(12-ounce) package semisweet

chocolate

chips*
Instructions
In the bowl of your electric mixer, combine the butter, cream cheese, and vanilla extract until well mixed. Gradually beat in the powdered sugar.

Either stir in or use your bread kneading blade of your electric mixer to add the chopped cherries, pecans, and coconut. Knead the mixture until it is well blended. It should be easy to handle and shape, and not very sticky. If needed add additional powdered sugar.

Use the palms of your hand to roll small amounts of the candy into an egg shape. The amount of candy you use depends on the size and number of candy eggs that you want to make. Use additional powdered sugar to prevent the dough from sticking to your hands. If the mixture gets too soft to mold easily, put it in the refrigerator for a few minutes.

Place the candy egg shapes on a wax paper. Refrigerator for several hours or overnight.

Double Boiler: In the top of a double boiler over hot water, not boiling water (do not let the bottom of the bowl touch the water), melt chocolate; stirring until smooth. Be careful boiling water may cause steam droplets to get into chocolate which can result in "seizing," when the chocolate becomes stiff and grainy. If you donot have a double boiler you can improvise one by placing a glass or stainless steel bowl over a pot of simmering water. Once the chocolate has melted, I turn the heat to low and leave on the burner while dipping. This keeps the chocolate from setting up to soon.

Remove the prepared candy eggs from your refrigerator.

Dip each candy egg in the melted chocolate to coat, then lay on either wax paper and allow the chocolate to harden. TIP: Using a toothpick to hold the balls, dip each ball into chocolate mixture to coat; place onto wax paper to harden. If the candy eggs start getting too soft to cover with chocolate, place them back in the refrigerator for a few minutes before proceeding.

If desired, you may decorate your chocolate eggs with pastel colored sprinkles found in the cake/decorating section at the grocery store.

Makes approximately 48 small Chocolate Easter Egg Candies.
Recipe Notes
* Use a good-quality chocolate chips.  The taste and quality of your can is dependent on the quality of chocolate you start with.
Comments and Reviews