Brown Sugar Peanut Brittle is so delicious and that it will WOW everyone you served it to.  This old fashion homemade peanut brittle recipe is quick and easy to make and tastes just like the professionals make theirs.  In fact, this recipe puts store-bought peanut brittle to shame!  Also Brown Sugar Peanut Brittle makes great Christmas gifts for your family and friends.
There is a lot of sugar in this recipe, so dieters beware.  If you are going to have a treat that you know is bad for you, doesn't it make sense to have the best-tasting treat you can, and satisfy the craving?
This recipe and photos are courtesy of Cynthia Detterick-Pineda of Andrews, TX.  Check out more of Cynthia's Southwest Recipes.
More wonderful Candy Recipes.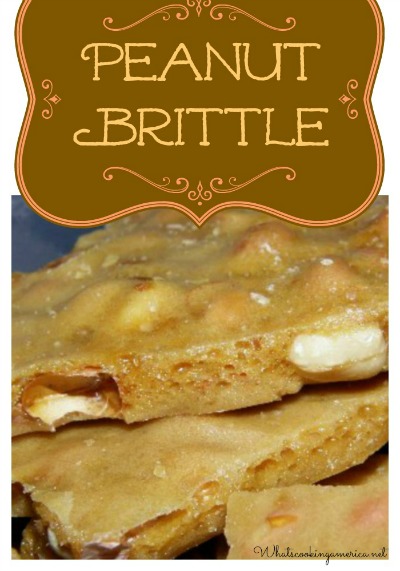 Brown Sugar Peanut Brittle Recipe:
Keyword:
Brown Sugar Peanut Brittle Recipe
Ingredients
1

cup granulated

sugar

1

cup (firmly-packed) light

brown sugar

1

cup

light corn syrup

1/2

cup

water

1/8

teaspoon

salt

1/4

cup

butter*

2 to 3

cups

peanuts,

raw and shelled

1 1/2

teaspoons

baking soda*
Instructions
Butter a baking pan or Cookie Sheets (with sides) or line with Silicone Baking Mats; set aside.

In a large heavy sauce pan (at least 3-quart size), combine granulated sugar, brown sugar, corn syrup, water and salt. Cook over medium high heat until all the sugar is dissolved. Continue to cook, stirring constantly, until the mixture comes just to a full boil.

Stir in the butter.  Continue to cook, without stirring, until a candy thermometer reached 230 degrees F.  Once it has reached this temperature a thread should form when the spoon is dipped into the mixture and lifted up.  Cook and stir until you reach 280 degrees F, or the soft crack stage.  (If you do not have a thermometer, place a small drop of the mixture into a bowl with room temperature water, the mixture should be make a firm ball that is slightly crunchy).

When you have reached 290 degrees F, add the peanuts (all at once) and stir in. Continue to stir constantly until you reach 300 degrees F, or the hard crack stage (a small amount of the mixture will make a hard ball when dropped into the water). I was taught to keep on stirring until you hear the peanuts begin to "pop", and then remove the pot from the heat.

Stir in the baking soda, and mix well. It is going to "foam" up, which is what gives you light, airy brittle. Stir it well, but do not stir it all the way flat, unless you really want flat hard crunchy brittle.

Working quickly, pour the candy mixture onto the prepared cookie sheet. Either spread with your spatula or tilt, shake and "shimmy" the candy until is has spread out as far as possible on the pan. You must do this as quickly as it sets up fast!

Tip: Place your baking sheet in a warm oven. By doing this, you add the hot candy mixture on a warm pan instead of a cold one. This gives you a little more time to spread out the mixture more evenly.

Allow to cool until it is room temperature, then lift the pan up and drop it onto the table (at least that is how I do it, you can crack it into pieces with the back of a heavy knife, or even with your hands if you wish).

You now have about 2 pounds of wonderful, crunchy peanut brittle! So enjoy!

Storing Peanut Brittle: Store the brittle in an airtight container once it has completely cooled.
Recipe Notes
* Baking soda adds bubbles that the brittle more porous and delicate texture.  Butter also helps to make the candy tender and easier to chew.

I get many readers asking what cooking/meat thermometer that I prefer and use in my cooking and baking. I, personally, use the Thermapen Thermometer. Originally designed for professional use, the Super-Fast Thermapen Thermometer is used by chefs all over the world.  I only endorse a few products, on my web site, that I like and use regularly.
You can learn more or buy yours at: Super-Fast Thermapen Thermometer.
Sponsored Content
Comments and Reviews