Peppermint Patty Candy!  When I want some candy, I always look for a Peppermint Patty in the stores.  
Now, I can make my own Peppermint Patty candy that are incredibly delicious and refreshing, as they can easily be made at home in your kitchen.  I, personally, love how refreshing the combination of peppermint and dark chocolate are in the mouth.  I like to store and eat them directly from the freezer as they taste so awesome!  This Peppermint Patty Candy recipe is my version of the famous York® peppermint patties you find in the stores.
Perfect for the holidays – they also definitely makes a wonderful Valentine Day, Easter and/or Christmas holiday treat for your family and friends.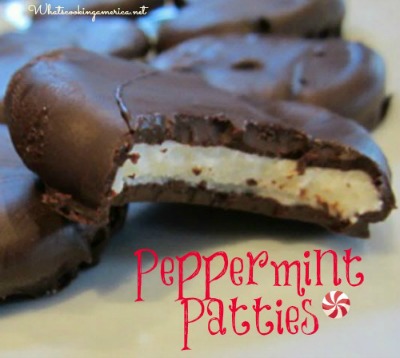 Peppermint Patty Recipe:
Keyword:
Peppermint Patty Recipe
Servings
:
30
to 40 Peppermint Patties
Instructions
Line two (2) baking sheets with parchment paper, wax pepper, or silicone pads.
Peppermint Filling:
In the bowl of your stand mixer using the paddle attachment, beat together the sweetened condensed milk, 2 cups powdered sugar, and peppermint extract until well incorporated.  Add additional powdered sugar, 1/2 cup at a time, until the dough is stiff but still pliable (the dough should not stick to your hand).  You may not need to use all the powdered sugar.

Using the palm of your hands, roll the Peppermint Filling mixture into approximately 3/4-inch balls and place on a parchment-lined baking sheets. Slowly press each ball into a round flat disc. Repeat until all the Peppermint Filling mixture is used.

Transfer the baking sheets to your freezer for approximately 30 minutes.


Melting Chocolate - Microwave Oven Method:
While the Peppermint Filling discs are chilling in the freezer, melt the chocolate chips.  Place the chocolate chips in a microwave-safe bowl, uncovered, to prevent moisture from collecting.

Place chocolate in the microwave for 30 seconds at a time on medium power until the chocolate is melted. Be very careful not to overheat it, as the chocolate may not look as if it has completely melted, because it retains its shape. The chocolate should be only slightly warmer than your bottom lip. You may still see lumps in it once you've stirred it, but don't worry; the residual heat of the chocolate will melt it. Do not rely on appearance alone when microwaving chocolate. The only way to know if it is fully melted is to gently stir it. Use a rubber spatula to stir the melting chocolate. NOTE: Do not leave in microwave until all the chocolate is melted.

Once the chocolate chips are melted, stir in the vegetable shortening or coconut oil to slightly thin the chocolate.
Prepare Peppermint Patties:
Line a large baking sheet with parchment paper or wax paper.  Remove the flattened peppermint discs from the freezer, one at a time, as you need to coat them with chocolate.

Place a peppermint disc on the tines of a fork and dip into the melted chocolate mixture until completely covered.  Allow excess chocolate to drip off the peppermint dish before setting on top of the parchment paper.  Allow the chocolate-coated Peppermint Patties to completely set up.  This can be done faster by place them in the refrigerator.  The Peppermint Patties are ready to serve when they are dry to the touch.

Once the chocolate coating has hardened, they should be stored in a covered container, layered between sheet of parchment paper, in the refrigerator or freezer until ready to serve.  They will keep up to 1 month in an airtight container in the refrigerator.

NOTE: I, personally, like to eat the chilled Peppermint Patties best - really refreshing to the mouth!

Makes approximately 30 to 40 Peppermint Patties (depending on the size of balls you roll).
Recipe Notes
* I used 1 tablespoon coconut oil and 1 tablespoon vegetable shortening.
You Might Also Like:
Candy Cane Kiss Cookies – Another great cookie for the peppermint lovers out!  These shortbread cookies have candy cane pieces mixed in the dough and the center is topped with a Hershey's Candy Cane Kiss.  This cookie is both festive and fun to eat.
Peppermint Bark Candy – This Peppermint Bark is totally delicious and addicting.  In fact it is as good, or even better, than the famous Williams Sonoma Peppermint Bark.  Give it a try!
Peppermint Snowballs – This is a great-tasting holiday cookie and these cookies are very pretty on your holiday cookie plate.
Comments and Reviews