Enjoy this crepe breakfast recipe using Spelt flour.  It is a delicious and easy introduction to cooking with specialty flours.  This recipe was shared with us by our Healthy lifestyle columnist, Charlotte Bradley.
Check out all of Charlotte Bradley's Healthy Lifestyles columns.
Learn more about Spelt Flour – Benefits, buying, storing and use of spelt flour.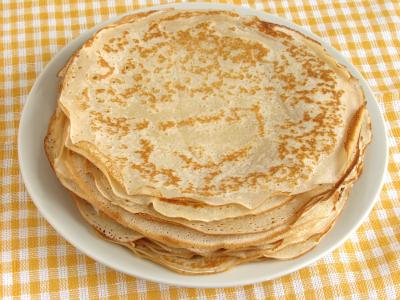 Spelt Crepes with Maple Caramelized Apples Recipe:
Keyword:
Spelt Crepes with Maple Caramelized Apples Recipe
Ingredients
Spelt Crepes:
1

cup

white spelt flour

(I sometimes use whole spelt flour - crepes are more rustic)

1/2

teaspoon

baking soda

1/2

teaspoon

salt

1

teaspoon

sugar

3 of 4

eggs

1

cup

buttermilk

(soy milk or regular milk may be substituted)

1/2

cup

water

3

tablespoons

oil

(your favorite cooking oil)

1/2

teaspoon

butter

or non-stick cooking spray
Caramelized Maple Apples:
2

tablespoons

butter

6

large

apples,

peeled, cored and sliced

1/2

cup

maple syrup
Instructions
Spelt Crepe Instructions:
In a large bowl, combine the spelt flour, baking soda, salt, sugar, eggs, buttermilk, water, and oil to form a very smooth and thin batter.

I usually use a whisk; however a blender works well too. Many crepe recipes recommend covering the batter and allowing it to sit for a time before cooking so that the flour particles expand. However, I rarely do this as neither myself nor my hungry children have the patience! If you do have the time, cover the bowl and allow it to sit in the fridge for a few hours, on the counter for 30 minutes or (if you're really organized), prepare the batter the night before.

Over medium heat, heat an 8-inch frying pan for a few minutes. Add the 1/2 teaspoon of butter or coat with cooking spray. You will only need to do this at the start.

Using a dry measuring cup, add a scant 1/4 cup of prepared crepe batter to the frying pan (you may need up to 1/3 cup if using a larger pan). Twirl the pan so that the batter covers the bottom of the pan in a thin layer. The first couple of crepes are often a write-off (or snack for the chef) as you get the temperature and amount of batter just right. I don't worry too much about shape or thinness – they improve as you go and are always delicious!

The crepe will be ready to flip when it appears slightly dry on top and golden on the bottom (approximately 1 1/2 to 2 minutes). To flip, I usually run a knife around the edge and then use my thumb and forefinger to flip it or slip a rubber spatula beneath. The crepes will only require about 30 seconds of cooking on the other side.

Stack the crepes on a plate as you go. You can keep them warm in a 200 degree F. oven or they are great served at room temperature.
Caramelized Maple Apples Instructions:
In a large skillet or wok over medium-high heat, heat butter.  Add the sliced apples and saute in the melted butter approximately 5 minutes or until lightly browned.

Add maple syrup.  Bring just to a boil; reduce heat and allow to gently cook approximately 5 minutes or until apples are soft and caramelized. Remove from heat.

To serve, we like to set the crepes and fillings on the table so that everyone can fill as they like and roll the crepes fajita-style.

Charlotte Bradley is the publisher of YogaFlavoredLife.com and an avid yoga practitioner.  She was a student of karate for many years and took up yoga only tentatively after the birth of her sons and a knee injury left her looking for a less high-impact form of exercise.  It was love at first pose as Charlotte saw how quickly yoga sped her rehabilitation along.  She also found that yogic relaxation techniques lent her proper focus, bringing balance into her life as well as a greater appreciation for how blessed she truly is.  She lives in Ottawa, Ontario with her husband and twin boys, Charlie and Patty, who keep her on her feet and on the go.  Her golden retriever supervises Charlotte's yoga workouts from a spare mat, with his eyes closed.
Comments and Reviews