Creating A Child-Friendly Kitchen
By Lea Schneider, Professional Organizer
The following is an excerpt taken from Growing-Up Organized:  A Mom to Mom Guide, written by What's Cooking America's own professional organizer Lea Schneider.

Photo Credit: washing the dishes – fotolia.com
Child friendly kitchens are important even though your child might not grow up to be a cook or like cooking but hopefully they will and every child should have some basic skills.  With obesity taking over America, if you don't teach your child to prepare some basic healthy dishes, you are sentencing them to a life of take-out.  It isn't only expensive but threatening to weight, heart-health and is linked to cancers, according to articles and news reports.
At the very least, your child should know how to keep a kitchen clean and sanitary and the importance, how to wash produce and some basic skills that will allow them to get by – scramble an egg, make a salad, bake a potato, cook a piece of chicken, boil some pasta and so forth.
In the kitchen, the organizational lessons, your child learns are many.  They learn the good use of space and keeping like items together.  They can learn to organize space by learning the place for everything in the pantry and the cupboard.
They also learn about planning ahead.  On a larger scale, planning for a week's worth of meals and grocery shopping in advance is a great time saving and a time management technique for you.  It is also a lesson in goal setting.  In a smaller lesson, preparing a meal or even a recipe is a lesson in organization.  You must gather all the items, follow the instructions and pay attention to time needed.  You can't bounce around from step one to step four (which certainly some folks try to do when organizing!)
Here's some hints for organizing your kitchen to be child-friendly:

Kitchen Cabinet:  Choose a lower cabinet and empty it.  Into it, place all of the kid-friendly dishes.  Put in it the plastic Spiderman bowl, Barbie plate and sippee cups.  Add a container to hold the child-size flatware.  Put in a napkin holder with napkins.  Not only can they set their place at the table and get a cup when they want a drink but they can help empty the dishwasher and put their own clean dishes away.
Pantry:  If you have young children and there are some things you do not want to them to constantly help themselves to, then you might place the snacks on an adult-height shelf.  Take a clear box and place an assortment of approved children's snacks, such as granola bars, at a lower level for them. Likewise, if your children pack their lunches choose a lower shelf and place all the items that they may take in their lunchbox.
Refrigerator:Have a snack zone in the fridge.  Add a bowl of fruit that everyone likes, such as grapes or oranges.  Add your small vegetable nibbles, containers of yogurt or pudding, cheese sticks and so on.  This keeps everyone from rummaging through the fridge and also keeps them from eating ingredients you have planned to use in meals.
Add a sturdy step stool to the kitchen: Dragging a chair over is not only dangerous for the child to stand on but short sighted.  You are hoping to teach your child to help often in the kitchen so you should buy a safe stool.
Once you've arranged your kitchen to by child-friendly, check back next month for organizing tips for working with children in the kitchen. S ee you then!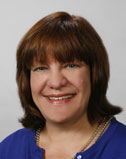 Author Lea Schneider, a columnist for What's Cooking America, is a freelance writer and organizational expert whose organizing ideas have been published in many magazines including Woman's Day, Better Homes and Gardens Kitchen and Bath Ideas, Family Circle, Parents Magazine, as well as numerous newspapers and websites.  She is a member of the Association of Food Journalists.
Getting organized is all about living simpler and making things easier.  The bonus is it often leads to saving money.  Lea Schneider's kitchen organizing columns tell you how to organize the many things that relate to kitchens, menus, meals, and special food events.
Check out all of Lea Schneider's helpful home and kitchen columns at Organizing Kitchens, Pantries, Menus and Meals.
Comments and Reviews