Chocolate Sundae Cookies remind me of the chocolate pinwheel cookies.  It would not have been a holiday cookie tray at our house without this unique and tasty Chocolate Sundae Cookies.
This fantastic cookie recipe was shared with me by a neighbor of mine, Shirley Snyder of Scholls, Oregon.  I believe this cookie recipe is an older 1961 Pillsbury Cook-Off recipe winner from Withee, Wisconsin.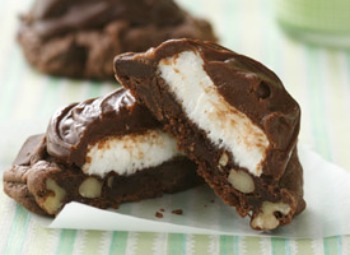 More favorite Cookie Recipes and Secrets To Making Perfect Cookies.  Also learn How To Have A Successful Holiday Cookie Exchange or Cookie Swap.
Chocolate Sundae Cookies - Chocolate Marshmallow Cookie Recipe:
Keyword:
Chocolate Marshmallow Cookie Recipe, Chocolate Sundae Cookie Recipe
Ingredients
Chocolate Sundae Cookies:
Instructions
Chocolate Sundae Cookies Instructions:
Preheat oven to 350 degrees F.

Drain off 1/4 cup maraschino cherry juice from you jar of maraschino cherries; set aside until ready to use. Chop enough maraschino cherries to equal 1/4 cup; set aside.

Sift together flour, baking soda, and salt; set aside.

In a large bowl, cream vegetable shortening and brown sugar until well blended. Add egg and beat well. Stir in 1/2 of sifted flour mixture. Stir in the maraschino cherry juice and milk. Stir in the remaining 1/2 sifted flour mixture and mix well. Stir in melted chocolate, walnuts, and chopped maraschino cherries.

On an ungreased cookie sheet, drop cookie dough by rounded teaspoons. Bake 12 to 15 minutes; remove from oven.

While cookies are still hot, place cut-side down marshmallows on top of each hot cookie. Cool on a wire cooling rack.

When cookies are cool, frost with Chocolate Frosting.
Chocolate Frosting Instructions:
In a medium saucepan over medium heat, melt butter.  Stir in cocoa until dissolved.  Add powdered sugar, milk, and vanilla extract; stir until smooth.  NOTE: If necessary, add more milk to make a soft spreading consistency.
Recipe Notes
* Purchase a jar of Maraschino Cherries, drain off the juice and reserve the 1/4 cup of cherry juice.
** Learn different techniques for How To Melt Chocolate.
Source:  Photo from Betty Crocker web site.
Comments and Reviews