Chia Seed Cookies make a great healthy treat for your family.  They are nutritious as well as delicious!
Chia Seeds have a mild, nut-like flavor.  The seeds are easily digested and do not have to be ground to be used.  Chia is a member of the mint family.  The seeds are either white or black and both types are highly nutritious.  Originally grown in Mexico and the Southwest between 1500 and 910 B.C., Chia seeds were an important part of the Aztec and Mayan diet.  Try serving these Chia seed Cookies for your next party.
Recipe and photo were generously shared by Anita Page of Alamogordo, New Mexico.
More favorite Cookie Recipes and Secrets To Making Perfect Cookies.  Also learn How To Have A Successful Holiday Cookie Exchange or Cookie Swap.
Chia Seed Cookie Recipe:
Keyword:
Chia Seed Cookie Recipe
Servings
:
3
dozen cookies
Ingredients
1

cup whole wheat

flour

1

cups self-rising

flour

1

teaspoon

baking soda

1 1/2

teaspoons

cream of tartar

3/4

cup

butter

or margarina

3/4

cup granulated

sugar

2

eggs

1/4

cup

Chia Seeds
Instructions
Preheat oven to 350 degrees F. Adjust oven rack to the middle position. Either butter a baking sheet or line with parchment paper or a silpad.

Sift together the whole wheat flour, self-rising flour, baking soda, and cream of tartar; set aside.

With an electric mixer at medium-high speed, beat the butter and sugar together until fluffy, approximately 2 minutes. Reduce the speed to medium and beat in the eggs until combined. Add the prepared flour mixture and beat until incorporated. Stir in the Chia Seeds.

Drop tablespoon-sized portions of dough onto the prepared baking sheet, spacing them about 2 inches apart (this is important as the cookies will spread).

Bake approximately 8 to 10 minutes. Remove from oven and let the cookies cool on the baking sheet for 2 minutes, then transfer to a wire rack to cool completely, about 15 minutes.

The cookies may be stored in an airtight container.

Makes approximately 3 dozen cookies.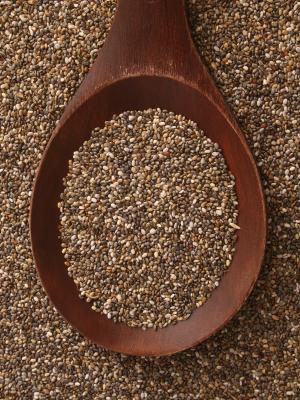 Chia Seeds:  You may know Chia as the sprouts that grow on the porous clay figurines called Chia Pets, however there is much more to it than that!  Chia has both nutritional and medicinal benefits.
The seeds are an excellent source of essential fatty acids and are a great addition to a healthy diet.  Chia Seeds are an edible seed that comes from the desert plant "Salvia hispanica," a member of the mint family that grows abundantly in southern Mexico.  The seeds are either white or black and both types are highly nutritious.
Learn more about the Ancient Chia Seed – How it Can Benefit Your Health.
Comments and Reviews