Chocolate Biscotti Cookies are pretty to look at and so delicious tasting.  They are mildly sweet and chocolaty.  They are a crisp, but not too sweet chocolate cookie that are excellent served with your cup of coffee or tea, plus excellent dunked into a glass of milk.  If you have never made biscotti before it may seem daunting, but you will be very surprised at how easy biscotti is to make.  It is very similar to making cookies.
When we think of biscotti we think of the twice baked long shaped Italian cookie.  The Italians call any cookie biscotti.  You will find that they can be made with many different ingredients, including nuts, spices, and fruits.  No matter what type of biscotti you have, they are always excellent served with a steaming cup of coffee.  For special occasions or after dinner, serve chocolate biscotti cookies with ice cream or sparkling wine.  This definitely is a versatile cookie, easily transforming from a casual dessert to a formal one.  You will also find them easy to make.
More favorite Cookie Recipes and Secrets To Making Perfect Cookies.  Also learn How To Have A Successful Holiday Cookie Exchange or Cookie Swap.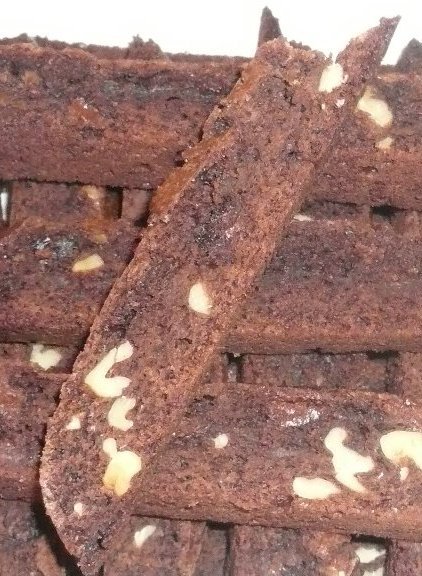 Chocolate Biscotti Recipe:
Keyword:
Chocolate Biscotti Recipe
Servings
:
6
dozen biscotti
Ingredients
3

cups

flour

(all-purpose)

3/4

cup

granulated sugar

1/2

cup

firmly-packed brown sugar

1

teaspoon

baking powder

3/4

teaspoon

salt

3

(1-ounce) squares unsweetened

chocolate

3

eggs

1/3

cup

olive oil

1

tablespoon

grated orange zest

2

tablespoons

orange juice,

fresh-squeezed

2

tablespoons

rum

1

teaspoon

pure vanilla extract

1

cup

semi-sweet chocolate chips

1

cup

pecans,

walnuts, or almonds, chopped
Instructions
Preheat oven to 350 degrees F. Lightly grease three (3) baking sheets (lining the baking sheet with parchment paper prevents sticking and makes cleanup much easier).

In a large bowl, combine flour, sugar, brown sugar, baking powder, and salt.

In the top of a double boiler over hot water, melt chocolate; remove from heat and let cool. Learn different techniques for How To Melt Chocolate.

Combine melted chocolate, eggs, olive oil, orange zest, orange juice, rum, and vanilla extract; stir into flour mixture. Add chocolate chips and pecans, walnuts, or almonds. Mix the dough just until it sticks together (dont over mix. Once the dough is mixed, it will be a little tacky).

To shape the dough into a log, lightly sprinkle flour on the work surface, on top of the dough, and on your hands. Use just enough flour to form the logs and to prevent sticking; you do not want the logs to be covered with flour. Divide dough into six equal pieces. With your hands, pat and shape each piece into a loaf approximately 3-inches wide, 7-inches long, and 3/4-inch high.

Place two rolls onto each prepared baking sheet with 3 to 4 inches of space between them.

Bake 25 minutes or until dough pops back up when lightly pressed with a finger. After dough has baked 10 minutes, reverse cookie sheets from front to back and move from the top rack to the bottom one. Repeat this again after another 10 minutes. You can not judge the cooking by the color. The biscotti should not change color during the second baking, so poke them to tell if they're done. They should feel dry and offer some resistance. Remove from oven and cool 10 minutes on a wire rack.

Reduce oven to 275 degrees F. Using a long serrated knife, cut logs diagonally into 1/2-inch thick slices. Turn the slices over, onto their sides; return slices, on baking sheets, to oven. Bake another 15 minutes. NOTE: Do not crowd the biscotti slices on the baking sheet for their second baking as they need the hot air to circulate to enable them to crisp up evenly. Remember biscotti will continue to crisp up, as they cool, so do not be tempted to over bake.

Remove from oven and cool completely on wire racks. Store biscotti in an airtight container. They will keep well for a few weeks.
Comments and Reviews