Fleur de Sel Cookies 

Hazelnut Shortbread Cookies with fleur de sel are enhanced by the salt.  These are a very gourmet cookie for a sophisticated palate.  The cookie has a fabulous texture with a salty edge and satisfying crunch.  It will be a favorite cookie around your house or as a special occasion treat.
Browning a portion of the butter before adding it to the cookie batter intensifies the buttery taste of this crisp, nutty shortbread.  The final product, the delightful Hazelnut Shortbread Cookies with fleur de sel.
What is fleur de sel?  Also known as Fleur de Sel, Flower of Salt, or Flor De Sal – It is the salt that is skimmed from the top of salt ponds early in the process of evaporation.  It is considered a great condiment salt; also good on grilled meats, in salads, and on vegetables. The flavor, like wines, varies depending on the region it is harvested from.  Typically it is from France though some is produced in Portugal.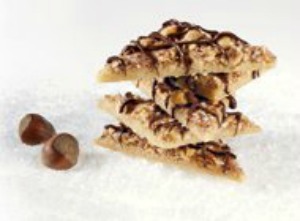 Hazelnut Shortbread Cookie Recipe - Fleur de Sel Cookies:
Keyword:
Fleur de Sel Cookies, Hazelnut Shortbread Cookie Recipe
Ingredients
1

cup

unsalted butter,

softened but still cool, divided

1/2

cup granulated

sugar

1/2

cup (lightly-packed) light

brown sugar

1/4

teaspoon

salt

plus a pinch, divided

1

whole

egg,

separated

1 1/2

teaspoons

pure vanilla extract

2

cups all-purpose

flour

1 1/2

cups (6 3/4 ounces)

hazelnuts

(filberts), chopped

2

tablespoons granulated

sugar

1/2

teaspoon

cinnamon,

ground

1/2

teaspoon

nutmeg,

ground

1

heaping teaspoon coarse

fleur de sel

or coarse salt

6

ounces bittersweet

chocolate

(look for bittersweet chocolate with a minimum of 60 percent cocoa solids)
Instructions
Preheat the oven to 350 degrees F. with oven rack in the middle. Butter a 10- by 15-inch jelly roll or sheet pan.

Place 4 tablespoons (1/4 cup) butter in a small saucepan over moderate heat. Melt and cook until butter stops foaming, smells toasty, and begins to brown, approximately 10 minutes. NOTE: The browner the butter, the deeper the flavor, but do not let it blacken or burn. Set aside to cool to room temperature.

Place the remaining 3/4 cup butter in a large bowl. Using an electric mixer or wooden spoon, beat until creamy. Add the granulated sugar, brown sugar, and salt; continue to beat until light and fluffy. Add the egg yolk, vanilla extract, and the cooled browned butter; mix to combine. Then add flour, 1 cup at a time, and stir with a wooden spoon to combine. Refrigerate the batter for approximately 20 to 30 minutes.

Divide chilled dough into eight (8) rough portions and arrange them evenly in the pan. Press dough down into an even layer to completely fill the jelly roll pan.

In a small bowl, beat the egg white with a pinch of salt. Brush mixture evenly over the dough. Sprinkle chopped hazelnuts over the top; press down lightly.

In another small bowl, combine 2 tablespoons sugar with the cinnamon and nutmeg, and sprinkle over the top of the nuts; then sprinkle sea salt over the top.

Bake, rotating the pan once halfway through baking, until golden brown and crisp, about 25 minutes. Remove from oven and let cool for 10 minutes; cut into 1- to 2-inch squares or diamonds. Transfer to a cooling rack.

Melt the chocolate in a metal bowl set over a pan of simmering water. Using a very small tipped pastry bag or the tines of a fork, drizzle the chocolate over the tops of the shortbreads.
Source:  This recipe and photo is from the Wisconsin Milk Marketing Board.
Comments and Reviews