Korova Cookies are a simple butter cookie turned into something magical by French pastry chef, Pierre Herm, and adapted by cookbook author Dories Greenspan.
It is that unexpected hint of salt and how it combines with the chocolate that makes for an explosive burst of flavor in these delicious chocolate butter cookies.  The brilliant thing about Korova cookies is that, as good as they are, they're so unassuming.  There's nothing fancy about them, no drizzles of icing, no creme fillings, no cookie-cutter shapes.  In fact, they look downright homey.  It is a truly stunning chocolate chip cookie with fleur de sel salt.  They are essentially American slice-and-bake icebox cookies.  The dough is mixed in a flash, rolled into logs, and chilled, then cut into rounds and baked in minutes.
The name, Korova, was the name of the milk bar in Stanley Kubrick's classic film A Clockwork Orange.  It was also the name of a restaurant off the Champs Elysées for which Pierre Herm created these cookies.  The restaurant is gone, but the cookies are still a specialty at Pierre's patisserie.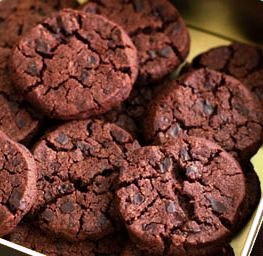 More favorite Cookie Recipes and Secrets To Making Perfect Cookies.  Also learn How To Have A Successful Holiday Cookie Exchange or Cookie Swap.
Korova Cookies Recipe - Sables Korova Recipe:
Keyword:
Korova Cookies Recipe, Sables Korova Recipe
Ingredients
1 1/4

cups all-purpose

flour

1/3

cup

Dutch-Process Cocoa

1/2

teaspoon

baking soda 

1/2

cup plus 3 tablespoons

unsalted butter,

room temperature

2/3

cup (firmly-packed) light

brown sugar

1/4

cup granulated

sugar

1/2

teaspoon

Fleur de Sel

or 1/4 teaspoon coarse sea salt

1

teaspoon

pure vanilla extract 

5

ounces (150 grams) bittersweet

chocolate,

chopped into chip-size bits*
Instructions
Sift the flour, cocoa, and baking soda together; set aside.

Put the butter in the bowl of a mixer fitted with the paddle attachment and beat on medium speed until the butter is soft and creamy. (Alternatively, you can do this and all subsequent steps by hand working with a sturdy rubber spatula.) Add the brown sugar, granulated sugar, salt, and vanilla extract; beat for another 1 to 2 minutes.

Reduce the mixer speed to low and add the sifted dry (flour) ingredients. Mix only until the dry ingredients are incorporated (the dough will look crumbly and that's just right). For the best texture, you want to work the dough as little as possible once the flour is added. Toss in the chocolate pieces and mix only to incorporate.

Turn the dough out onto a smooth work surface, divide it in half and, working with one half at a time, shape the dough into a log that is 1 inch (4-cm) in diameter. Cookie-dough logs have a way of ending up with hollow centers, so as you're shaping a log, flatten it once or twice and roll it up from one long side to the other, just to make certain you have not got an air channel. Wrap the logs in plastic wrap and refrigerate them for at least 1 hour.

The dough can be made ahead and either chilled or frozen. Wrapped airtight, the logs can be refrigerated for up to 3 days or frozen for 1 month. In fact, if you've frozen the dough, you need not defrost it before baking, just slice the logs into cookies and bake the cookies 1 minute longer. Packed airtight, baked cookies will keep at room temperature for up to 3 days; they can be frozen for up to 1 month.

Preheat oven to 350 degrees F. (180 degrees C.) and center a rack in the oven. Line two baking sheets with parchment paper.

Working with a sharp thin-bladed knife, slice rounds that are 1/2-inch (1-cm) thick. (Don't be upset when the cookies break, just squeeze the broken-off bit back onto the cookie.) Place the cookies on the parchment-lined sheets leaving about 1 inch (2.5 cm) of spread space between each cookie.

Bake only one sheet of cookies at a time and bake each sheet for 12 minutes. The cookies will not look done, nor will they be firm, but that's just the way they should be. Transfer the baking sheet to a cooling rack and let the cookies rest, on the baking sheet, until they are only just warm or until they reach room temperature. Repeat with the second sheet of cookies.
Recipe Notes
* The secret is to use the best quality bittersweet chocolate you can find, preferably a 70 percent cocoa content, but lower percentages are allowed.
Source:  I slightly adapted this recipe from the cookbook Paris Sweets: Great Desserts from the City's Best Pastry Shops, by Dories Greenspan.
More Delicious Chocolate Cookies:
Chocolate Crinkles (Kringles)
These are wonderful cookie – a chocolate lover's delight! I definitely love chocolate!  This delicious and popular cookies are know by several names, such as Aggie Cookies, and Crinkle or Kringle Cookies.
Chocolate Espresso Cookies
Chocoholics Beware! I like to call these cookies Chocolate Bombs, as the chocolate, espresso, and cayenne powder seem to explode in your mouth with flavor.
Chocolate Truffle Bars
As you peruse this recipe, this thought may occur:  "Oh my!  This must be terribly rich and full of calories."  Well, you're exactly right – but indulge yourself anyway with one of these divine barsl
Chocolate Sundae Cookies
These cookies remind me of the chocolate pinwheel cookies.  I believe this cookie recipe is an older Pillsbury Cook-Off recipe winner.
Comments and Reviews