If you love Lemon Meringue Pie, you will definitely love these Lemon Meringue Bars.  So delicious and easier to make than a pie!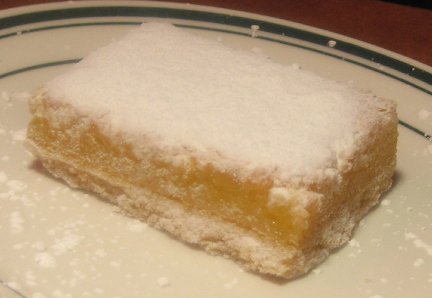 More favorite Cookie Recipes and Secrets To Making Perfect Cookies.  Also learn How To Have A Successful Holiday Cookie Exchange or Cookie Swap.
Lemon Meringue Bars Recipe:
Keyword:
Lemon Meringue Bars Recipe
Servings
:
24
Lemon Meringue Bars
Ingredients
Crust:
1 3/4

cups all-purpose

flour

2/3

cup

powdered sugar

(confectioners' sugar)

1/4

cup

cornstarch

1/4

teaspoon

salt

1

cup

unsalted butter,

room temperature

Extra

butter,

softened (for greasing pan)
Lemon Filling:
1

cup granulated

sugar

1/4

cup

cornstarch

1/8

teaspoon

salt

1 1/2

cups

water

6

egg

yolks, slightly beaten

1

tablespoon

lemon zest,

grated

1/2

cup

lemon juice,

fresh squeezed

2

tablespoons

butter
Instructions
Lemon Meringue Bars Instructions:
Preheat oven to 350 degrees F. Adjust oven rack to middle position. Lightly butter a 13- x 9-inch baking dish and line with parchment paper or wax paper allowing edges to come over the sides.

Prepare Crust. Refrigerate for about 30 minutes and then bake until golden brown, about 20 to 30 minutes; remove from oven, place on a wire cooling rack, and let cool slightly. After crust is finished baking, reduce oven temperature to 325 degrees F.

Prepare Lemon Filling and pour over the top of the baked crust.

Prepare Meringue Topping. Spread prepared Meringue Topping over hot lemon filling, being careful to spread to edge of pasty to prevent shrinkage during baking.

Bake for 20 minutes, or until the filling feels firm when touched lightly. Remove from oven and transfer the pan to a wire cooling rack and cool for 30 minutes.

After cooling, grasp the parchment paper and carefully lift the lemon bars onto a cutting board. Cut into serving size squares or bars, wiping your knife clean between cuts if necessary.
Crust Instructions:
Pulse flour, powdered sugar, cornstarch, and salt in a food processor. Add butter and blend, 8 to 10 seconds, and then pulse until mixture resembles coarse meal. Sprinkle mixture into prepared baking pan and press firmly into an even layer with slightly raised sides to hold in the filling.
Lemon Filling:
While crust is baking, make the Lemon Filling: In a large saucepan over low heat, combine sugar, cornstarch, salt, and water; simmer until translucent. Whisk in egg yolks gradually. Whisk in lemon zest, lemon juice, and butter. Remove from heat.

Meringue Topping:
In a small saucepan over low heat, combine cornstarch and water; bring to simmer, stirring until mixture thickens and turns translucent. Remove from heat and let cool./In a large bowl, beat egg whites and vanilla extract until frothy. In a small bowl, combine cream of tartar and sugar; add to egg whites, 1 tablespoon at a time, beating until soft peaks form. Slowly add cooled cornstarch mixture, 1 tablespoon at a time; continue to beat until stiff peaks form.
More Delicious Lemon Cookies:
Lemon Bars Deluxe
I have found that it is hard to find a really good lemon bar recipe, as some have too much crust and not enough filling while others are not lemony enough.  Here is the recipe that I recommend.  It is just right!

High Tea Lemon Cookies
This is an old-fashion recipe that is very rich and delicious.  Be prepared though, all your friends will want this recipe after they taste these delicious cookies.

Lemon Melt Away Cookies
As the title says, "These cookies literally melt in your mouth!"  These cookies have a shortbread-like texture and taste wonderful!

Lemon Sable Cookies
Sable cookies are a classic French cookie originating in Normandy.  Sable is French for "sand," which refer to the sandy texture of these delicate shortbread-like cookies
Comments and Reviews