Nanaimo Bars are very rich and so good cookie that requires no baking!   Nanaimo (pronounced nah-NIGH-moe) Bars are a traditional Canadian bar cookie whose origins are said to be from Nanaimo, British Columbia.  They are identified by their signature yellow custard layer with a chocolate graham cracker/coconut crust, and topped with melted chocolate.
The original Nanaimo bar dates back to the 1950's where a Cowichan Bay housewife, Mable Jenkins, submitted the recipe as a cookbook contribution for a local institution's fundraiser.  The cookbook sold all over British Columbia and the recipe grew in popularity.  In a 1952 Nanaimo Hospital Auxiliary cookbook, the bar is simply referred to as Chocolate Squares.
Nanaimo Bars have become a Nanaimo staple, offered in most restaurants and cafes throughout the city.  There is even an Official Recipe for the bar.  In 1985, Mayor Graeme Roberts started a contest to find the ultimate Nanaimo bar recipe.  During the four-week long contest, almost 100 different variations of the famous confection were submitted.  The winning recipe, submitted by local resident Joyce Hardcastle, was unanimously declared to be the official recipe and is available as a handout from the City.  There have been many versions of Nanaimo Bars made over the years, but the Original Nanaimo Bar recipe still stands as a favorite.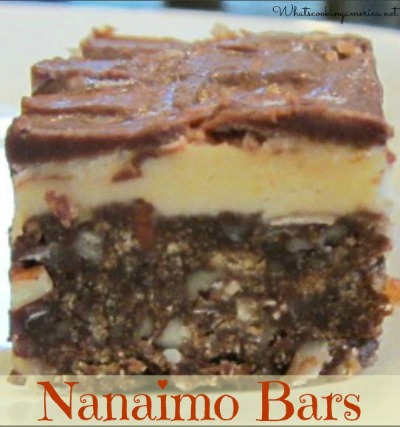 Nanaimo Bar Recipe:
Keyword:
Nanaimo Bar Recipe
Servings
:
1
(8-inch by 8-inch) pan
Ingredients
Crust Base - Bottom Layer:
Custard Filling - Second Layer:
1/2

cup

unsalted butter,

room temperature

2

tablespoons plus 2 teaspoons

heavy cream

2

tablespoons

vanilla custard powder 

(Bird's Custard Powder is preferred)*

2

cups

powdered sugar

(confectioners' sugar)
Chocolate Topping - Top Layer:
4

(1 ounce) squares semisweet

chocolate

or 4 ounces semi-sweet chocolate chips

2

tablespoons

unsalted butter
Instructions
Line a 8-inch by 8-inch square baking dish or pan with either plastic wrap or aluminum foil. The original recipe does not call for lining the pan, but believe me, this makes for a must neater and easier removal of the finished bars.
Crust Base - Bottom Layer Instructions:
Place the beaten egg in a small bowl; set aside.

In a heavy saucepan over low heat, melt the butter, sugar, and cocoa. Whisk a small amount of the hot melted mixture into the egg. Return the egg mixture to the pan, whisking constantly. Cook and stir until mixture reaches 160 degrees F. on your cooking thermometer and begins to thicken. Remove from heat and stir in the graham cracker crumbs, almond or pecans, and coconut.

Press the cracker mixture firmly into the prepared baking dish or pan. Set aside.
Custard Filling - Second Layer Instructions:
In a large bowl of your electric mixer, cream together the butter, cream, custard powder, and powdered sugar until well blended. Spread over the Crust Base. Refrigerate at least 15 minutes or until set.
Chocolate Topping - Top Layer Instructions:
In a large saucepan over low heat, melt together the chocolate and butter. Remove from heat and pour the chocolate mixture over the chilled Custard Filling. Refrigerator at least 1 hour or until set.

Nanaimo Bars may be stored in the refrigerator, covered up to 1 month.
Recipe Notes
*  Bird's Custard Powder is widely available in the UK and Canada.  However, it is harder to find in other areas of the world.  If you are unable to find it, you could substitute instant vanilla pudding or corn starch.
Comments and Reviews