Learn How to Make the Best Italian Wafer Cookies 
Pizzelle's come from Italy.  They are also known as Italian wafer cookies and there are various ways which to spell pizzelle such as "piazelle," "piazella," "pizzele" and "pizelle."  The name comes from the Italian word "pizze" for round and flat.  Pizzelles are eaten flat or folded into cone shapes that are filled with ice cream and other sweets.
Many different cultures have adapted this cookie and re-named it accordingly.  In Scandinavia they are also known as "Lukken" and the Krumcake is baked using a similar iron as the pizzelle   In some parts of Italy, the irons would be made with family crests on them which would be passed down to each generation.
Learn more about the interesting History of Pizzelles.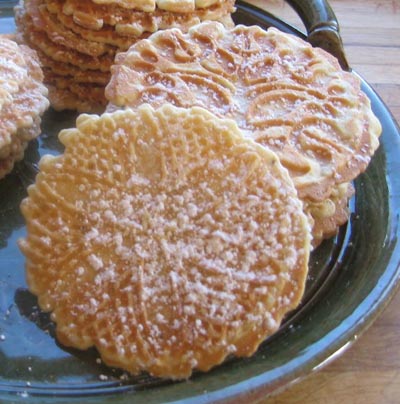 More favorite Cookie Recipes and Secrets To Making Perfect Cookies.   Also learn How To Have A Successful Holiday Cookie Exchange or Cookie Swap.
Equipment Needed:
Pizzelle Baker Press
Italian Pizzelles Recipe:
Keyword:
Italian Pizzelles Recipe, Italian Wafer Cookies Recipe
Ingredients
1 1/2

cups all-purpose

flour

1

teaspoon

baking powder

3

eggs,

beaten

3/4

cup granulated

sugar

3/4

cup

butter,

melted

2

teaspoons

pure vanilla extract

1

teaspoon

anise seeds

Powdered sugar

(confectioners' sugar)
Instructions
In a bowl, sift together the flour and baking powder.

In the bowl of your electric mixer, beat together the eggs and sugar, Add the melted butter, vanilla extract, and anise seeds. Add the flour mixture and beat until smooth.

Preheat your pizzelle baker according to the manufacturer's directions. The red indicator light will begin to glow, indicating that the baker has begun preheating. It will take approximately 5 to 8 minutes to reach baking temperature. At this point, you will see the red light going on and off. This only means that the baker is maintaining the proper baking temperature, it does not tell you when to start or stop baking.

Lightly spray the pizzelle grids with non-stick spray or lightly brush with vegetable oil.



Drop batter by rounded tablespoonful onto center or each preheated grid pattern. You will find that by placing the batter slightly behind the center of the pattern, your pizzelles will come out closer to a round shape (this is because, as you close the baker, the batter squeezes forward slightly).

The amount of batter used can vary according to the size of your Pizzelle Maker. Usually my first batch of pizzelles are my test batch to determine the amount of dough to be used and also the baking time.

Close lid and bake approximately 40 to 50 second depending on your preference for browning and/or the consistency of your batter. You may open the lid briefly to examine the color and bake longer as desired to create the darkness you want.

Lift the lid and remove the cooked pizzelles with the edge of a fork or a thin spatula. Place them on paper towel lined cooling racks in single layers. Be sure to lay the hot pizzelles in a single layer on the cookie sheet. When they are completely cool, you can stack them.
Recipe Notes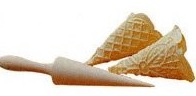 NOTE:  If you wish to shape your pizzelles, do so by removing one from the grid and immediately shaping it while still warm.  The other pizzelles will remain warm and pliable until you are ready to remove them for shaping.
Cool baked pizzelles completely and sprinkle each with powdered sugar.  Continue making pizzelles until all the dough is used.
When completely cool, wrap them in groups of six (6) in plastic wrap and place them in airtight containers.  Pizzelles can be made ahead and frozen for up to 3 months.
---
Pizzelle Variation Ideas:
Lemon Pizzelles – Omit vanilla extract and anise seed.  Add 2 teaspoons lemon extract and 1 tablespoon grated lemon zest.
Chocolate Pizzelles – Mix 3 tablespoons unsweetened cocoa powder and 3 tablespoons sugar.  Add to basic recipe.
Nut Pizzelles – Add 1 1/2 cups very finely chopped or ground nuts to basic recipe.
Maple Pizzelles – Omit vanilla extract and anise seed.  Add 3 teaspoon pure maple syrup.
Rolled Pizzelles – When just removed from the pizzelle maker and they are still hot, they can be rolled around cannoli forms or pressed between two small custard cups to form shapes that can be filled with cream, custard, or fruit.
Liqueur Pizzelles – Omit vanilla extract and anise seed.  Add 2 teaspoons of your favorite liqueur.
Additional Family Favorite Christmas Cookies:
Merry Christmas Cookies
Christmas would hardly seem like Christmas without fancifully shaped and decorated cookies.  You and your children will love these cookies.  The honey in this recipe makes these cookies melt in your mouth.
Russian Teacakes – Mexican Wedding Cakes
This favorite holiday cookie is known by many different names around the world, such as Mexican Wedding Cakes, Russian Teacakes, Swedish Tea Cakes, Italian Butter Nut, Southern Pecan Butterball, Snowdrop, Viennese Sugar Ball, Sand Tarts, and Snowballs.
Spritz Cookies
Crisp, fragile, and buttery tasting.  Great for Christmas goodies.  What Christmas holiday cookie plate would be complete without Spritz Cookies?  My mother made these every Christmas season since I was little, and I make them now.
German Lebkuchen Squares
A wonderful German Christmas tradition that is consumed and enjoyed around the world.  It is thought that the Lebkuchen was probably the first cookie traditionally associated with Christmas and oldest form of cookie known to humankind.
Nanaimo Bar – Original Nanaimo Bar Recipe
There have been many versions of Nanaimo Bars made over the years, but the Original Nanaimo Bar recipe still stands as a favorite.  These bars are very rich!
Comments and Reviews