My mother made Snickerdoodle Cookies when I as young, and I made Snickerdoodle Cookies for my children.  My daughters now make Snickerdoodle Cookies for my grandchildren.  As you can see, the Snickerdoodles Cookies are still a family favorite.
History:  Cookies, as we know them in America, were originally brought to the United States by our English, Scottish, and Dutch immigrants.  Earlier names for cookies such as Snickerdoodles and Cry Babies originated with the New England states.  Even with its early history, cookies did not become popular until about a hundred years ago.  In earlier American cookbooks, cookies were given no space of their own but were listed at the end of the cake chapter.  They were called by such names as "jumbles," "Plunkets," and "Cry Babies."  The names were extremely puzzling and whimsical.  New England cooks seem to have had a penchant for giving odd names to their dishes, apparently for no other reason than the fun of saying them.  Snickerdoodles comes from a tradition of this sort that includes Graham Jakes, Jolly Boys, Branble, Tangle Breeches, and Kinkawoodles.
Learn more about the history of your favorite Cookies.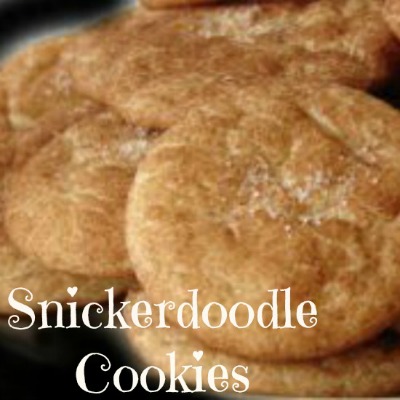 More favorite Cookie Recipes and Secrets To Making Perfect Cookies.   Also learn How To Have A Successful Holiday Cookie Exchange or Cookie Swap.
Best Snickerdoodle Cookie Recipe:
Keyword:
Best Snickerdoodle Cookie Recipe
Instructions
Preheat oven to 400 degrees F.

In a large bowl, cream vegetable shortening, butter, 1 1/2 cups sugar, and eggs until light and fluffy. Add flour, cream of tartar, baking soda, and salt; stir until well blended.

In a small bowl, combine 2 tablespoons sugar and 2 tablespoons cinnamon.

Using your hands, roll dough into balls the size of small walnuts; roll in the prepared sugar/cinnamon mixture. Place cookies 2 inches apart onto ungreased cookie sheets.

Bake approximately 8 to 10 minutes or until light brown and just almost set (these cookies firm up as they cool).

Remove from oven and cool on wire cooling racks. Cookies puff when they begin to bake and then flatten out with crinkled tops.
Recipe Notes
* Do not try making this recipe using butter only and skipping the shortening.  You will not be happy! 
Nutrition Facts
Best Snickerdoodle Cookie Recipe:
Amount Per Serving
Calories 90
Calories from Fat 315
% Daily Value*
Fat 35g54%
* Percent Daily Values are based on a 2000 calorie diet.
---
All-Time Family Favorite Christmas Cookies:
Peanut Butter Cookies
A recipe collection wouldn't be complete without most children's favorite cookie – Peanut Butter Cookies.  This is a very easy-to-make and delicious cookie.
Oatmeal Cookies
What could be easier and simpler than an old-fashioned oatmeal cookie?  Easy-to-make and always delicious! I like adding raisins to this simple version, but you can add nuts and/or chocolate chips if desired.
Chocolate Chip Cookies
The absolute best  Chocolate Chip Cookie recipe.  The addition of powdered rolled oats makes these exception chocolate chip cookies.  This will definitely become your favorite Chocolate Chip Cookies Recipe!
Merry Christmas Cookies
Christmas would hardly seem like Christmas without fancifully shaped and decorated cookies.  You and your children will love these cookies.  The honey in this recipe makes these cookies melt in your mouth.
Spritz Cookies
Crisp, fragile, and buttery tasting. Great for Christmas goodies.  What Christmas holiday cookie plate would be complete without Spritz Cookies?  My mother made these every Christmas season since I was little, and I make them now.
Comments and Reviews