Swiss Meringue Horn Cookies remind me of when I was a child and my mother used to take leftover pie dough, sprinkle it with cinnamon and sugar, and then bake. These delicious cookies actually melt in your mouth!  
These Swiss Meringue Horns are easy to make, but they have several steps which make them seem difficult, but the cookies are worth the effort.
This wonderful cookie recipe was shared with me by my sister, Carol Arroyo, and her website called The Baking Pan.  Recipe adapted from Redbooks Special It's Almost Christmas Cookbook, November 1977.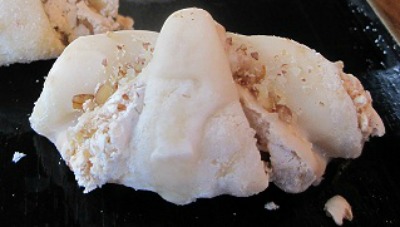 More favorite Cookie Recipes and Secrets To Making Perfect Cookies.  Also learn How To Have A Successful Holiday Cookie Exchange or Cookie Swap.
Swiss Meringue Horn Cookie Recipe:
Keyword:
Swiss Meringue Horn Cookie Recipe
Servings
:
10
dozen cookies
Ingredients
Swiss Meringue Horn Cookies:
4

cups all-purpose

flour

1

teaspoon

salt

1

package active dry

yeast

1 1/4

cups

unsalted butter,

room temperature

3

large

egg

yolks

1/2

cup

sour cream

1

teaspoon

pure vanilla extract

1

cup

powdered sugar

(confectioners' sugar) for rolling the dough in

1

cup

walnuts

or pecans, finely-chopped
Vanilla Icing:
2

cups

powdered sugar

(confectioners' sugar)

1/2

teaspoon

pure vanilla extract

2 to 3

tablespoons

warm milk

(preferably whole milk), plus more if needed
Instructions
Swiss Meringue Horn Cookies Instructions:
Preheat oven to 350 degrees F. Cookie Sheets may be ungreased, lined with parchment paper, or lined with a non-stick Silicone Baking Mats.

In a large mixing bowel, combine flour, salt, and yeast; whisk together to combine. Using a pastry blender or two knives, cut butter into the flour mixture until the mixture resembles coarse crumbs. Add egg yolks, sour cream, and vanilla extract; stir until thoroughly mixed.

Divide dough into 10 equal portions (using about 1/3 cup for each portion). Roll each dough portion into a ball, cover, and refrigerate while preparing the Meringue Filling.

Prepare the Meringue Filling; refrigerate until ready to use.

When ready to assemble, generously sprinkle your pastry board and Rolling Pin with some of the 1 cup powdered sugar.

Remove one (1) of the dough balls from the refrigerator. If necessary, let the dough stand at room temperature approximately 10 to 15 minutes to soften the dough enough to make rolling easier. Using your rolling pin, roll the dough ball into an 8-inch circle. As you are rolling the dough, gently pick the dough up and lightly re-sugar the work surface. Make sure the dough is not sticking to the board when you are ready to add the filling.

Spoon 1/4 cup of prepared Meringue Filling on top of the circle of dough; spread evenly either with a small offset spatula or the back of a spoon. Sprinkle 1 tablespoon of chopped nuts over the top of the meringue.

Using a sharp knife, pizza cutter, or pastry cutter, cut the dough into twelve (12) wedges. The easiest way to cut each piece evenly is to cut the dough as though cutting a pizza. Cut the dough into quarters and then cut each quarter into thirds.

Starting from the wide end, roll up each wedge of dough. Place the cookie rolls on the prepared cookie sheet with the point of the dough underneath (on the bottom).

Prepare the Vanilla Icings while the cookies are baking.

Bake approximately 15 minutes or until the bottoms are light brown and the meringue is a light golden brown. Remove from oven and frost the cookies while still hot.

While cookies are still hot from the oven, spoon about 1/4 teaspoon of Vanilla Icing on top of each cookie. Sprinkle about 1/8 to 1/4 teaspoons chopped nuts (left over from the filling) on top of the Vanilla Icing. Use a metal spatula to carefully transfer the fragile cookies to a wire cooling rack and let completely cool.

Repeat the baking, icing, and assembly for the remaining dough balls; removing from the refrigerator one (1) ball at a time only.

Store cookies in an airtight container at room temperature.
Meringue Filling Instructions:
In a large mixing bowl using clean beaters, beat the egg whites until soft peaks form. Gradually add the sugar and continue beating until stiff peaks form. Add the vanilla extract and continue beating approximately 1 additional minute until thoroughly mixed together.

Refrigerate the meringue until ready to use. Keep refrigerated while not using during the cookie assembly.
Vanilla Icing Instructions:
In a medium bowl, and using an electric mixer or hand mixer, combine powdered sugar and vanilla extract. Add warm milk in small quantities at a time. Start with 2 tablespoons milk, Add additional warm milk in teaspoons or just drops at a time until the icing is the desired consistency. The icing should be like a sour cream or a little thinner.
Comments and Reviews