You will not believe how wonderful these crab cakes are.  My husband thinks that these crab cakes could win an award.  You be the judge!
All regional crabs may be used in this crab cake recipe, such as blue crab meat, lump crab meat, or Dungeness crab meat.
Check out more of Linda's great Crab Recipes and Appetizer Recipes for more great cooking ideas.
Please check out my Cabernet Filet Mignon dinner menu, Poached Chicken Breasts with Blackberry Cabernet Sauce dinner menu, and Taste of California Dinner (Cioppino Dinner) which includes these Crab Cakes with Green Onion Sauce.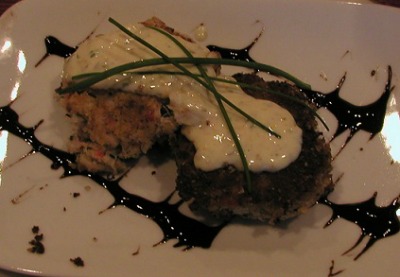 Crab Cakes with Green Onion Sauce Recipe:
Keyword:
Crab Cakes with Green Onion Sauce Recipe
Ingredients
Crab Cakes:
1

pound

crab meat 

(blue crab, lump crab, or Dungeness crab), cooked*

4

scallions

(green part only), minced or 1/4 cup green onions, minced

1

tablespoons

herbs

(such as cilantro, dill weed, basil, thyme, parsley, etc.), freshly chopped

1 1/2

teaspoons

Old Bay Seasoning

1/4

cup

Panko

or fine dry bread crumbs

1/4

cup

mayonnaise
Salt

and white pepper to taste

1

large

egg,

slightly beaten

1/2

cup fine

bread crumbs

or cracker crumbs**

4

tablespoons

butter
Instructions
Crab Cake Instructions:
Carefully clean the crab meat of any shells or cartilage. In a large bowl, gently mix crab meat, scallions or green onions, herbs, Old Bay seasoning, bread crumbs, and mayonnaise. Season with salt and white pepper. Carefully fold in egg with a rubber spatula until mixture just clings together.

Divide crab mixture into four portions and shape each into a flat, round cake about 3 inches across and 1-1/2 inches high. Place onto a baking sheet lined either parchment or wax paper; cover with plastic wrap and refrigerator at least 3 hours or overnight (the cold will firm up the cakes so that they will not break up when fried.)

Place bread or cracker crumbs into a shallow pie plate; lightly dredge crab cakes.

In a large nonstick frying pan over medium heat, heat butter until hot but not smoking (add more butter if needed). Gently lay chilled crab cakes onto bottom of the pan; slowly fry crab cakes approximately 3 to 4 minutes per side or until crisp and golden brown, turning once only with a spatula. If the crab cake browns too quickly, reduce heat. The internal temperature should be 150 to 155 degrees F. with an cooking thermometer. Remove from heat, transfer onto a serving platter, and serve hot with Green Onion Sauce.

NOTE: These crab cakes are also great as a starter course of your dinner meal.

Makes 8 servings or 16 petite crab cakes.
Green Onion Sauce Instructions:
In a medium bowl, combine mayonnaise, cream, egg, Tabasco sauce, Worcestershire sauce, lemon juice, dry mustard, salt, pepper, japapeno chile pepper, sugar, and green onions.

Cover and refrigerate at least one hour. Serve sauce cold.

I get many readers asking what cooking/meat thermometer that I prefer and use in my cooking and baking. I, personally, use the Thermapen Thermometer. Originally designed for professional use, the Super-Fast Thermapen Thermometer is used by chefs all over the world.  I only endorse a few products, on my web site, that I like and use regularly.
You can learn more or buy yours at: Super-Fast Thermapen Thermometer.
Sponsored Content
Comments and Reviews