I make banana nut bread for holidays in small loaf pans so that I can share it with neighbors and friends, or I make it just anytime that I have over ripe bananas that need to be used.  I often wondered if this was a recipe passed down in the family, which would explain why I could never find a copy in cookbooks or even online, but sadly that is a secret she took with her when she passed many years ago.  I will always remember her as a wonderful cook, a wonderful grandmother, and the epitome of the quintessential woman who was always immaculately dressed, and whose etiquette and manners that would put Emily Post to shame.  She was the kind of woman rarely seen in this day and age, and the type we should all try harder to be.
There is a saying about lemons:  When life gives you lemons, make lemonade.  Well maybe there should be one for bananas as well – when life gives you overripe bananas, make banana bread!   At least that is what I do.  Actually over ripe bananas freeze great.  Just place them in a freezer bag and toss them in the freezer.  They will get very black and almost rotten looking, but that is only on the outside.  The banana will thaw out and be just as use-able and good as the day you froze it.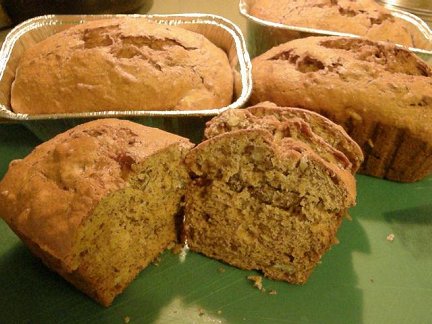 I can remember my Grandmother Mummie D's banana nut bread always being the best I ever had.  She made it, my mother made it, and eventually I started making it.  I can remember not having the recipe one year, and searching every banana nut bread recipe I could find and making them all, but none held a candle to her banana bread.  This is called a bread, and it is a quick bread, but it is more like a cake in the taste and texture.
This Banana Nut Bread recipe and photo are courtesy of Cynthia Detterick-Pineda of Andrews, TX.
Banana Nut Bread Recipe:
Keyword:
Banana Nut Bread Recipe
Instructions
Preheat your oven to 300 degrees F.

Prepare a standard loaf pan by rubbing the sides with shortening or use a non-stick spray. Small loaf pans can also be used without varying the time or temperature for cooking.

In a large bowl, cream together sugar and vegetable shortening until smooth. Add mashed bananas and eggs; beat until blended well with the sugar and shortening.

In a medium-size bowl, combine the flour, baking soda, and salt; mix well. Add this flour mixture to the banana mixture and blend in thoroughly. Mix in the chopped nuts so they are even throughout the batter.

Spoon into your prepared loaf pan or pans and place in the oven to cook. Bake approximately 55 to 60 minutes or until a toothpick inserted in center comes out clean. Remove from oven and cool on wire racks 10 minutes; remove from pans. It is easier to cut the bread when it is cool, but it taste wonderful warm.

Makes approximately 10 slices of about 1-inch thick.
Comments and Reviews