In our home, burritos are a standard when it comes to quick mid-day meals, weekends on the run, or any other time that we need something to fix in a hurry.  The meat recipe below is not one of those hurry-up recipes since it has to be marinated overnight, but I have found that I can prepare it in the bag ready to be marinated, and freeze it until it is needed.  That way, I bypass the 24 hour wait for the marinade, and it becomes a quick and easy meal that is almost ready to serve just by thawing the meat and marinate mixture in some warm water in the sink.
Burritos are great for parties, friends dropping over, or any other time.  Just cook your meat and place it in the middle of a buffet style table with all the toppings readily available for guest to build their own burrito!  You can even make a variety of meats to serve, so that everyone can get just what they want!
This easy-to-make burrito recipe, comments, and photos are courtesy of Cynthia Detterick-Pineda of Andrews, TX.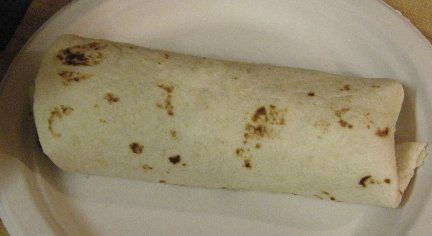 For more interesting and delicious burrito recipes, check out Beef and Bean Burritos with Hatch Chiles and Breakfast Burritos with Chorizo.
Burrito Recipe - How To Fold Burritos:
Keyword:
Burritos Recipe, How To Fold Burritos
Servings
:
6
to 8 servings
Ingredients
1 1/2 to 2

pounds

shoulder steak

(or any other low fat meat that can be sliced into 2-unch by 1/8-inch strips)

1

large clove

garlic,

crushed and ground with salt

1/2

of a (12-ounce) can of

Sprite

beverage

Juice

of 1 large lime, fresh-squeezed

2

shots of

Tequila liquor

1

tablespoon

red chile pepper,

crushed

1/2

teaspoon

oregano,

dried

1

teaspoon

cumin

(comino), ground

1 to 2

tablespoons fresh

cilantro,

finely chopped

2

tablespoons

vegetable oil

2

medium

onions,

cut into rings
Instructions
Place the meat in the freezer for 20 to 30 minutes. This will help to firm it up and making slicing it easier. After removing from the freezer, place on your cutting board and slice against the grain, making pieces about 1/8 or an inch thick. Cut the thin slices into sections of about 2 inches.

Peel the clove of garlic: Using a large knife, hit it onto a cutting board to "smash" the clove. Take a small amount of salt (approximately 1/8 teaspoon) and sprinkle it over the crushed garlic clove. Using your large knife again, rub the salt into the garlic crushing it even further and grinding it into small bits.

Place the cut meat into a large, sealable freezer bag (or a vacuum container if you have one). Add the Sprite, lime juice, Tequila, red pepper, garlic, oregano, cumin, and cilantro; mix together so that the meat is entirely covered by the liquid and spices. Seal the bag, removing as much air as possible (or vacuum seal if available). Place in refrigerator to marinade overnight. NOTE: You can also place this in the freezer and keep for another day. This should be thawed by leaving at room temperature or in a bowl of warm water. Microwave defrosting tends to partially cook the meat and make is tougher when cooked.

When you are ready to cook the meat, remove the meat from the marinade; do not discard the marinade.

Heat a large skillet or cast-iron pot over medium-high heat. Add enough vegetable oil to coat the pan lightly. Once the pan is hot, you can see a tiny bit of smoke rising from the pan, add the drained meat all at once. Be careful, this will splatter! Stir constantly as it cooks. When the meat is almost done (you should see only a slight bit of pink in a cut piece), add the onion rings and continue stirring. Remove from heat when done.

Serve the meat and onion mixture with fresh hot Tortillas (corn or flour) and any other burrito toppings you desire.
How To Fold Burritos:
Do your burritos often fall apart? Learn how to fold a burrito so its contents stay tucked inside where they should be.

Lay the tortilla on a flat surface like a counter top, large plate or a cutting board.

Fill your tortilla with a meat and what other toppings you desire. The filling should be slightly to one side. Remember, if you make it too full, it will not fit in your mouth and it will fall out on your shirt!

Fold the short end (the side the meat and other fillings are on), covering the fillings and slightly covering the opposite side.

Fold the bottom of the filled tortilla up towards the top.

This is what keeps your burrito from falling out on your lap. It will be slightly over-lapping the folded side.

Now you are ready to roll it over and close it up. Simply roll the first side you folded over, keeping the bottom tucked in, and continue rolling it until it is closed.

You should keep it nice and snug, but not too tight as you might end up with a torn tortilla, and that can be a mess. You now have a meal you can hold onto!
Comments and Reviews