Baked Butternut Squash is so delicious.  I personally love squash!  Summer squash such as zucchini and crookneck, winter squash like butternut and acorn, and yes even pumpkin!
Some days, I just do not have a clue how to change up the menu when it comes to making a squash side dish.  The other night, I came up with this Baked Buttermilk Squash with a Tart Twist recipe after looking over a few dozen recipes that just did not really excite me.  Turns out this ended up very good, so I have added it to my recipe files, and I want to share it with you!
Butternut Squash – Easily found in supermarkets.  Beige colored and shaped like a vase or a bell.  This is a more watery squash and tastes somewhat similar to sweet potatoes.  It has a bulbous end and pale, creamy skin, with a choice, fine-textured, deep-orange flesh with a sweet, nutty flavor.  Some people say it taste a lot like butterscotch.  It weighs from 2 to 5 pounds.  The oranger the color, the riper, drier, and sweeter the squash.
This easy-to-make Baked Butternut Squash recipe, comments, and photos are courtesy of Cynthia Detterick-Pineda of Andrews, TX.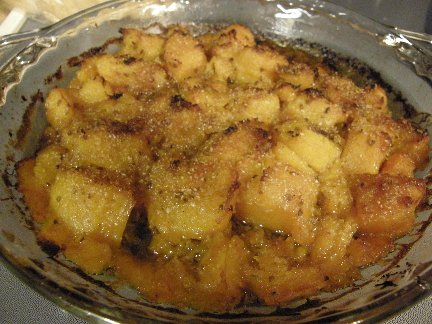 Baked Butternut Squash with a Tart Twist Recipe:
Keyword:
Baked Butternut Squash with a Tart Twist Recipe
Instructions
Preheat the oven to 350 degrees F. Lightly butter a shallow baking dish.

Using a large knife, carefully cut the butternut squash into two halves lengthwise. Scoop out the seeds and any fibrous-strings.

Wrap the halves in plastic wrap and microwave for approximately 5 minutes. This will partially cook the squash making it easier to peel and quicker to cook in the final baking stage.

Peel the skin off the both halves of the squash, after allowing it to cool to the touch.

Dice the squash into 1-inch pieces and place in prepared baking dish. Sprinkle the salt, pepper, lemon zest, and cardamom evenly over the squash pieces.

In a small bowl, mix the brown sugar and melted butter together until the sugar is dissolved; stir in the lemon juice. Drizzle this brown sugar mixture over the squash.

Bake approximately 20 to 30 minutes or until lightly browned across the top and the squash pierces easily with a fork.
Comments and Reviews