Southwest Corn Custard with Roasted Peppers recipe is meant for a side dish or even a main dish if you want to go meatless, but it is almost sweet enough to be served as a dessert!
The recipe is a conglomeration of one of my own recipes for a corn casserole that originally had cheese and green chiles with a corn pudding base.  I combined my own recipe with a wonderful recipe my cousin John Detterick submitted to me for a family recipe book I put together for our last family reunion to celebrate my Aunt Grace Betty's 90th birthday.  He had gotten the recipe from Gourmet Magazine.  I liked the extra layer of flavor the vanilla bean gave it, and the way the extra bit of sugar helped to soften the heat from the chili.  The two recipes together produced a wonderful taste sensation that goes great with roasted meats and Bar-B-Que.
This recipe, comments, and photos are courtesy of Cynthia Detterick-Pineda of Andrews, TX.  Check out more of Cynthia's Southwest Recipes.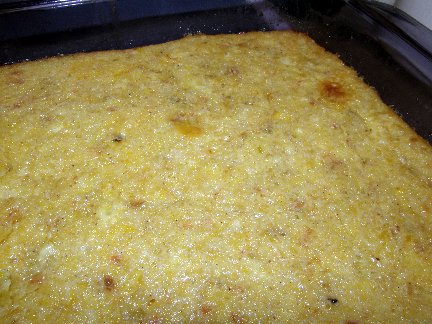 Southwest Corn Custard with Roasted Peppers Recipe:
Keyword:
Southwest Corn Custard with Roasted Peppers Recipe
Servings
:
5
to 7 servings
Ingredients
2 1/2

cups of fresh

corn

kernels or 1 pound bag of frozen corn kernels thawed, divided

1/4

cup granulated

sugar

1 1/4

teaspoons

salt

1

cup

milk

3/4

cup

heavy cream

4

eggs

1/2

vanilla bean,

split lengthwise and seeds scraped, or 1/2 teaspoon pure vanilla extract

1/2

cup (1/2 stick)

unsalted butter,

melted and cooled to touch

4

tablespoons all-purpose

flour

1/4

cup

green chile peppers,

chopped (2 to 3 roasted Anaheim or poblano chiles), peeled and seeds removed*

1/8

teaspoon

nutmeg,

freshly ground
Instructions
Preheat the oven to 350 degrees F. and butter a 1 1/2-quart shallow casserole or quiche dish.

In the food processor, pulse 1/2 of the corn until it forms a paste (this will take approximately 8 to 10 pulses on most food processors).

In a medium-sized bowl, mix the corn paste, the remainder of the whole corn kernels, sugar, salt, milk, cream, eggs, and vanilla seeds or extract. Mix well, taking care to make sure the processed corn paste is mixed in thoroughly or you will have clumps in your finished dish. Add the flour, butter, and diced green chile peppers, stirring until combined.

Pour the mixture in your prepared casserole or quiche dish. Sprinkle the nutmeg over the custard and bake on the middle rack of your oven until the center is just set, about 40 to 45 minutes (30 minutes at the same temperature if you are using a convection oven). Remove from oven.

Allow the baked corn custard to set for approximately 5 minutes before serving.
Recipe Notes
* Roast chiles by piercing them once with a small knife and placing them on a cast iron griddle or skillet over high heat until the skin has charred and appears loose on the pepper.  Wrap the chiles pepper with a slightly dampened paper towel until they have cooled to touch.  The skin should peel easily from the chile pepper.
Comments and Reviews