This Sweet and Spicy Mini Meatballs recipe is a mix of two southern styles of cooking that can actually be very similar in many ways – Cajun and Southwestern.  It is easy enough to make for a entree and can be used as a simple appetizer.
Ground beef has to be one of the most versatile meat products on the market.  Sure, it is great for casseroles, hamburgers, spaghetti sauces – you name it.  But if you are anything like me, you have opened your pantry, had the blank "what's for dinner" stare, and been left completely numb as to what to turn that ground beef into.
This recipe, comments, and photos are courtesy of Cynthia Detterick-Pineda of Andrews, TX.  Check out more of Cynthia's Southwest Recipes.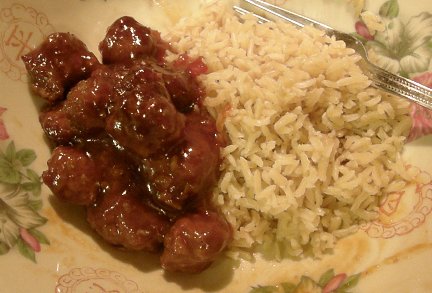 Sweet And Spicy Mini Meatballs Recipe:
Cuisine:
Cajun, Southwest
Keyword:
Sweet And Spicy Mini Meatballs Recipe
Ingredients
1 1/2

pounds lean

ground beef

(hamburger)

1/2

cup

bread crumbs,

dried*

2

tablespoons

red chile flakes

1/8

teaspoon of

salt

1

tablespoon

olive oil

1

tablespoon

butter

6

cloves

garlic,

minced

1/2

cup

honey

1/4

cup

soy sauce

1

(8-ounce) can

tomato sauce
Rice,

cooked (optional-see below)
Instructions
Preheat oven to 500 degrees F. Grease a large baking sheet.In a large bowl, combine the ground beef, breadcrumbs, chile flakes, and salt.

To make uniform meatballs: Pat out the entire meat mixture into a rectangular shape and score the mixture into equal squares of the size desired for the meatballs. Roll each of these "squares" into a ball and place onto the prepared baking sheet.

Place the prepared meatballs in the oven and bake for 10 to 15 minutes or until there is no pink in the center of the meatballs.

While the meatballs are baking, over medium heat, heat the butter and olive oil. Add the minced garlic and sautuntil the garlic becomes translucent. Stir in the honey, soy sauce, and tomato sauce; mixing well. Bring just to a low boil and then lower the heat to simmer.

When the meatballs are cooked, remove from oven, and then from the baking sheet. Add the cooked meatballs to the prepared sauce mixture; gently stir to coat the meatballs well. Allow the meatballs to simmer over low heat for approximately 15 minutes.


You are now ready to serve these delicious meatballs! You have a choice to serve over the rice or to use an appetizer.

To serve over rice: In a medium saucepan, bring two (2) cups of water, 1 cup of rice, and 1/8 teaspoon of salt just to a boil; then turn heat to low and cover. Let simmer approximately 20 minutes or until all the water is absorbed. Serve the meatballs and sauce over the rice.

Appetizer: Serve the mini meatballs with serving picks as an appetizer.
Comments and Reviews