Mole Poblano de Guajolote
Everyone can enjoy this traditional Mexican Thanksgiving and Christmas dinner recipe of Turkey in Mole Sauce (Mole Poblano de Guajolote) dinner. Mexican Americans and others have put their own gastronomical twist on Thanksgiving meals. Those recipes are the ones I hope to share with you here. These are not "tradition," nor are they found at all Thanksgiving celebrations, which include Latin American foods, but they are the foods many consider a Thanksgiving meal in the Southwest.
Foods such as this Turkey in Mole Sauce, posole (hominy), Mexican Tripe Soup (Menudo), Enchiladas, Tamales, different varieties of potatoes, Beans, an array of salads, along with other foods, both traditional (to Americans) and not so traditional.
This Turkey in Mole Sauce recipe, comments, and photos are courtesy of Cynthia Detterick-Pineda of Andrews, TX.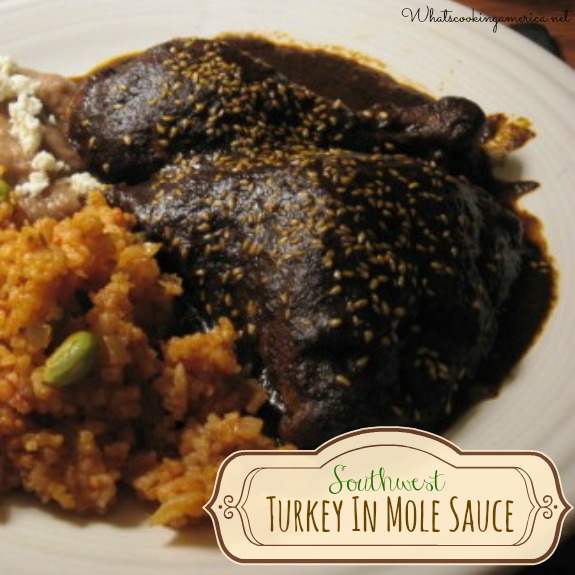 History: The traditions of Thanksgiving and Christmas were transplanted into the Mexican culture. Most of us know the American tradition of Thanksgiving, and the story of how the Indians and settlers at Plymouth Rock shared a meal and festivities. Did you know that the meal they shared was nothing like the meals we consider a Thanksgiving Dinner now? The meal was probably more like what the Indians across the Americas ate for years, mainly wild meats, whatever vegetables were in season, and no pumpkin pie. It is hard to imagine Thanksgiving without pumpkin pie, but the use of sugar in cooking was rare, especially for the settlers at Plymouth who had only the supply of sugar brought over on the boat.
On November 1, 1872, state of New Hampshire passed a proclamation to make the 28th of November officially Thanksgiving. Over time, Thanksgiving began to be celebrated the third Thursday in November instead of a set day. But whichever day Thanksgiving falls on, it has become a cross cultural celebration with the foods of many different nations being fused into the meal. It has become even more of what the settlers at Plymouth and the Indians had made it then, a celebration of peace among people from different cultures and origins. It was only natural that other countries would take this idea of a celebration and feasting to give thanks and integrate it into their own holidays. Mexico is no exception to that.
Turkey in Mole Sauce Recipe – Mole Poblano de Guajolote:
Cuisine:
Mexican, Southwest
Ingredients
Whole

Turkey or Chicken

your Choice

4

teaspoons

Vegetable Oil

1/4

cup

Sesame seeds

1

cup

Silvered almonds

(blanched)

4 to 5

Dried ancho chiles

(ancho chiles are dried poblano chiles)

6

dried red chile peppers

3

cups

Chicken stock -divided

(beef or vegetable stock may be used

1

tablespoon

Sunflower kernals

(unsalted)

1/2

teaspoon

Whole anise seeds

1/2

cup

Raisins

1/2

teaspoon

Dried oregano

(preferably Mexican)

1/2

teaspoon

Ground cinnamon

1/4

teaspoon

Ground cloves

1/2

teaspoon

Ground coriander

1

medium

Onion

(diced)

3

cloves

Garlic

(minced)

2

medium-sized

Tomatoes

(peeled and chopped)

1

Corn tortillas

(torn into small pieces

2

ounces

Unsweetened baking chocolate

(grated)

Salt and pepper to taste
Instructions
Preheat oven to 350 degrees F. Using an instant read thermometer, cook to an internal temperature of 165 degrees. About 20 minutes per pound.




Cut the turkey as you would a chicken for frying, dividing larger pieces into smaller ones if needed. If you are using chickens, cut these the same.




In a large skillet over medium heat, add the vegetable oil and brown the turkey on all sides, a batch at a time. When one batch is browned, place them in a large baking dish, and go on to the next batch. Once they are all in the baking dish, bake for 50 minutes. NOTE: If using chicken you can decrease this time to 30 minutes. Continue to keep the meat warm after they have baked in the oven.




In another large skillet over medium heat, toast sesame seeds and the slivered almonds lightly. Remove from heat and set aside.




In this same skillet your browned the turkey, add the dried chile peppers (ancho and reds) turning frequently. They will begin to puff when they are done. Some red chiles are already toasted before being sold in bags at the store; check the bag to see if this is the case. If the chile peppers you have are already toasted, then they will not need to be toasted a second time. Once they are toasted and beginning to puff, add just enough hot water to cover. Turn off the heat, and let them sit there for about 15 to 20 minutes. Once the chile peppers are softened in the water, drain them well, and discard the water.




In a food processor or large blender, place 3 or 4 prepared chile peppers at a time with about 1/4 cup of the chicken stock and blend. Add a few more chile peppers at a time with another 1/4 cup of chicken stock and continue to blend until all have blended down but are not completely smooth. Add the sunflower kernels, anise seed, almonds, raisins, oregano, cinnamon, cloves, coriander, onion, garlic, tomatoes, corn tortilla, and an additional 1/2 cup of chicken stock. Blend until smooth.




Place the purée into a saucepan large enough to add the turkey pieces eventually. Stir in the remaining 2 1/2 cups of stock and bring the sauce up to a simmer. Add more of the chicken stock if needed so the mixture doesn't get clumpy or too thick.




Add the grated chocolate. Cook at a simmer, stirring frequently, until the chocolate melts. Now that you have added the chocolate, you have Mole Sauce.




Add the turkey or chicken to the pureed Mole Sauce and heat through. Add salt and pepper to taste.




Transfer to large serving dish with an edge to prevent any sauce from over flowing. Sprinkle fresh coriander and a few toasted sesame seeds over the top. It is now ready to serve.
Comments and Reviews