Mexican Sincronizadas
The quesadillas found in the United Stated are actually sincronizadas, and not actual quesadillas.  They are very similar, but Sincronizadas are made from wheat flour tortillas layered and filled with cheese and other stuffings (something like a grilled cheese sandwich, or should I say a grilled tortilla sandwich?)  You will find the stuffings are usually the same.
Quesadillas originated in the central part of Mexico, but they have traveled across the southwest over the years, and have taken on many different characteristics.  Quesadillas are corn tortillas filled with cheese (thus the name "quesa" dilla).  Filling them with pumpkin or squash flowers are also common, or a protein can be added.
Sincronizadas are the ones I generally make for a quick meal or snack.  They can be filled with any variety of cooked meats, sea foods, vegetables, eggs, squash flowers, or just cheese.  They are great for using leftovers, and are so quick and easy that you might find yourself tossing some together simply on a whim.  They can also be dressed up, cut in smaller bite sized pieces, and served as appetizers or hors d'oeuvres.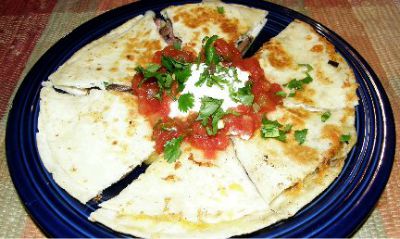 Quesadillas Recipe - Sincronizadas:
Keyword:
Quesadilla Recipe, Sincronizadas Recipe
Servings
:
2
(10-inch) quesadillas.
Ingredients
4

(10-inch)

Flour tortillas

or Corn Tortillas*

1/2

cup

cheese

of your liking, grated (cheddar, Monterrey Jack, and/or Quesaquesadilla cheeses all work well)

1/2

meat

(beef or pork or other filling of your choice), thinly sliced and cooked

1/4

cup

green onions,

sliced or minced white onion

4

tablespoons

green chile peppers

of your liking (such as roasted long green jalapeno and/or chipotle), minced

2

tablespoons

olive oil

(corn oil may also be used)
Optionl Toppings for serving:
Instructions
In a large saute pan or frying pan over medium heat, heat the olive oil. NOTE: You may also lightly spray with non-stick cooking spray. Make sure your pan is large enough to fit the tortilla and for you to be able to flip it when the time comes.

Place one tortilla in the pan and layer 1/8 cup cheese, meat, onion and other stuffing, 1/8 cup more of cheese and top with the second tortilla. I use this layering order so the cheese can melt somewhat before flipping and help to hold it together.

Once the bottom tortilla is browned, very carefully, using a wide spatula, flip the quesadilla over and cook another 2 to 4 minutes, or until the quesadilla is browned and the cheese is just melted (just as you would making a grilled cheese sandwich). I use this layering order so the cheese can melt somewhat before flipping and help to hold it together. The flipping is the hardest part and you can make a huge mess if your pan or spatula are not large enough.


After the second side has browned, remove from heat, and slide the quesadilla onto a cutting board; cut into equal pieces (usually quarters). The number of pieces can be your choice - four or more make the quesadilla easier to handle if you are using this as finger food, two or four make good servings for the more civilized who wish to use knifes and forks.

Top with sour cream and salsa of your choice and sprinkle with a small amount of minced fresh cilantro.

Variation: An alternative to using two tortillas for each quesadillas is to take one tortilla, layer the stuffing ingredients to one side (using 1/2 of the ingredients that you would use for two (2) tortillas. Fold over the empty side and flip after browning.

Makes 2 (10-inch) quesadillas. Two 10-inch quesadillas can serve 3 to 4 people as an entree or 2 hungry ones. As a snack or hors d'oeuvres, one quesadilla will make 16 bite-sized servings.

Source:  This recipe, comments, and photos are courtesy of Cynthia Detterick-Pineda of Andrews, TX.   More of Cynthia's Southwest Recipes.
Additional Favorite Southwest Breakfast Dishes:
Comments and Reviews