Dark Chocolate Flan is absolutely perfect for all chocolate lovers!  Since I am a chocolate lover, I want to share with you one of my favorite desserts.  I know you will love this decadent chocolate flan as it is simply scrumptious.  Wow your family and friends with this cool, creamy chocolate custard.  A perfect ending for your meal.
Flan is the classic quintessential Mexican dessert that is certainly one of my favorites.  Flan may be prepared in a large flan dish or in individual ramekins.  In Mexico, flans are usually served in small ramekins (custard cups).
Remember – chocolate is good for you, especially dark chocolate!   Dark Chocolate – not white chocolate or milk chocolate – is good for you.  As there is no question that chocolate procures pleasure for those who eat it, you never need to feel guilty again!  An Idea!  How about serving this decadent Dark Chocolate Flan for Valentine's Day?  This dessert is guaranteed to make your loved one fall in love with you all over again.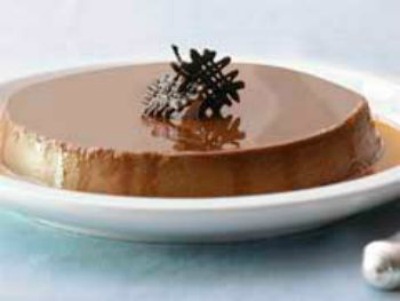 Dark Chocolate Flan Recipe:
Keyword:
Dark Chocolate Flan Recipe
Ingredients
1 1/2

cups granulated

sugar,

divided

1

tablespoon

water

Drop of

lemon juice

5

cups whole

milk

2

cinnamon

sticks

3

ounces

dark chocolate*

1

teaspoon

pure vanilla extract

5

large

eggs,

room temperature
Instructions
Prepare Caramel:
In a heavy saucepan over low to medium-low heat, combine 1 cup sugar, water, and drop of lemon juice (the lemon juice keeps the mixture from hardening or crystalling). I find that maintaining a low heat, I have more control over the caramelizing process, as it is really easy to burn.

Cook, stirring constantly with a wooden spoon or silicone spatula, until sugar dissolves and mixture just begins to simmer. Sugar melts at about 320 degrees F. and will turn to a clear liquid at that temperature.

After sugar dissolves and syrup is simmering, cook for approximately 8 to 10 minutes, without stirring. Hold handle of pan and gently tilt the pan off the heat to distribute color evenly as sugar caramelizes. Watch it carefully, it can go past the light brown stage quickly and burn.

If using a digital instant-read thermometer, the temperature on your cooking thermometer should register a final temperature of approximately 340 to 350 degrees F. and the syrup should have a golden brown (light amber) color. Watch the changing of the color and the temperature carefully as it can go past the light brown stage quickly and burn. If you think it is close to being done but are scared of burning it, you can take it off the heat and it will finish due to the residual heat. Remove from heat, set aside, and let cool. To stop the caramel from cooking, some recipes have you dip the bottom if the pot in ice water for 10 seconds.

When sugar reaches a uniform golden brown (light amber) color, immediately remove from heat and pour into individual ramekins or custard dishes, coating the bottoms evenly (tilt the dishes so that the caramel coats the bottom). Set aside and let cool.
Prepare Chocolate Flans:
In a heavy-bottomed saucepan over medium-low heat, bring the milk to a slow simmer; add the remaining 1/2 cup sugar and cinnamon sticks. Be careful not to bring it to a full boil, and do not cover with a lid. Let simmer for one (1) hour.

Meanwhile, chop the chocolate into small pieces. Add and stir the chopped chocolate into the hot milk. Stir every 10 minutes or so until the chocolate has been fully incorporated into the milk. At some point, a milk film will appear, but do not worry about it, because you will strain the mixture later. In the last 10 minutes, add the vanilla extract, but not before, because it will evaporate with heat. Remove milk from heat and let cool for 15 minutes.

While the milk cools, beat the eggs with a hand-held mixer at medium speed for 3 to 4 minutes. This will make your custard a little fluffier than if you beat the eggs with a fork.

After the milk has cooled, pour the hot milk mixture through a fine-meshed strainer.

Add a few tablespoons of the hot milk to the eggs and stir. This will temper the eggs so they do not curdle. Repeat about three more times, then add the egg mixture to rest of the milk in the pan and stir with a spoon. If you see any curdling, pour the mixture through a clean strainer again.

Pour the mixture into the ramekins or pie pan and set into a large pan for the water bath. If cooking custards in a metal pan, cover the bottom of the pan with a layer of newspaper to ensure an even temperature on the bottom.

Definition of Water Bath or Bain-Marie (bahn mah-REE) - A hot water bath or bain-marie are used to cook custards and baked eggs in the oven without curdling or cracking, and also used to hold sauces and to clarify butter. Water baths are most often used for egg-based dishes. The proteins in the eggs are very heat sensitive and only need to be warmed to cook thoroughly. They will start to get firm at only 145 degrees F. Cooking them with a slow, gentle heat keeps the eggs soft and smooth.

Place pan on the middle rack of the oven. Bring the water for the water bath to a light simmer on top of the stove; carefully pour hot water into the baking pan to come half-way up the sides of the custard cups. The most common mistake people make in baking custard is not putting enough water in the hot-water bath. Cover the entire pan with aluminum foil to eliminate a crust forming on the custard.
Baking Chocolate Flans:
Preheat oven at 325 degrees F. Adjust oven rack to middle of the oven.

Bake prepared chocolate flan approximately 30 to 35 minutes or until set around the edges but still loose in the center. The cooking time will depend largely on the size of the custard cups you are using, but begin checking at 20 minutes and check back regularly. If using a digital thermometer, insert thermometer in the center of the flan. Begin checking temperature about 5 minutes before recommended time. The internal temperature should register 170 to 175 degrees F. The center of custard is just set, it will jiggle a little when shaken, that is when you can remove it from the oven (the flans will continue to set as they cool).

Remove from oven and leave the flans in the water bath until cooled. When cool, remove cups or pan from water bath and refrigerate at least 2 hours or up to 2 days.

To unmold and serve, carefully dip bottom of each ramekin in a baking pan of hot water briefly. Run a thin knife around edge of each ramekin to loosen it from the inside of the bowl. Wipe the outside of the mold dry, place an individual chilled serving plate (topside down) on top of each flan. Invert the custard onto the plate and carefully lift off ramekin. If you're using a pie pan or casserole dish, place a platter or cookie sheet over the dish and invert quickly.

Makes 6 servings (depending on size of the custard cups).
Recipe Notes
* Always use a top-quality chocolate.

I get many readers asking what cooking/meat thermometer that I prefer and use in my cooking and baking. I, personally, use the Thermapen Thermometer. Originally designed for professional use, the Super-Fast Thermapen Thermometer is used by chefs all over the world.  I only endorse a few products, on my web site, that I like and use regularly.
You can learn more or buy yours at: Super-Fast Thermapen Thermometer.
Sponsored Content
Source:  Photo from Kraft Foods.
Comments and Reviews